Jabulani Secrets with Ranger Nathan
by jabulanisafari
Get to know our newest ranger, Nathan Newman, in this Q&A to discover Nathan's insight into and approach to the wilderness and life! Welcome to the team, Nathan! You may have already seen Nathan's videos on our YouTube, captured from the safari seat. Be sure to tune in for more adventures through his eyes.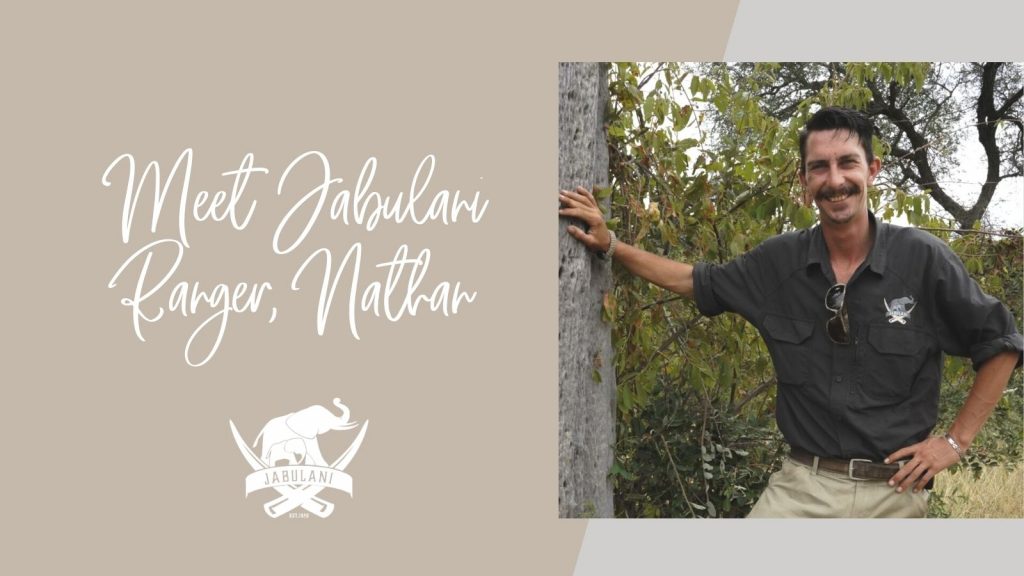 We all have our different connections to nature and the animal world. Can you describe yours?
I sometimes cannot explain the pure joy it brings me to be out in the bush. I often see a lot of similarities between people and the wildlife we find on our game drives, I feel there is a more primal connection to the bush in all of us. Being out in Mother Nature day in and day out, it often teaches you new things on a regular basis. I love that I learn something new everyday and that everyday I grow closer to the animal kingdom.
How have you developed your understanding of the South African wilderness?
I was very fortunate as a young boy to have been exposed to nature at a very early age, as my father had a vast array of knowledge that he taught me and it just piqued my interests. I went a step further and started investing in books and numerous studying material. I took any opportunity to work in the bush over the years which has helped me to develop a small understanding about what goes on around us. That was just the taste I needed to want to become a guide.
What are the moments of living and working at Jabulani that mean the most to you?
Being away from home for long periods of time has made me be on the lookout for my next close connection, and Jabulani has made me feel like this truly is a home away from home. I am ecstatic about how we all work together to keep this well-oiled machine running.
What is the weirdest thing you love about the wilderness?
For myself I love the weird things out there, I tend to like the things out there that nobody else does. A good example would be a solifuge, a mean, hairy, speedy creepy crawly that will give most people the heebie-jeebies. I on the other hand cannot get enough of them. I find them to be one of the craziest looking creatures out there. They are carnivores and will seek out small insects with their front legs in the air testing the air particles for any sign of prey. I find them to be quite weird but quite amazing.
How do you handle fear in the wild – in yourself and in guests?
The bush is full of unforeseen surprises, some of which can be dangerous. I've always kept a clear head of understanding animal behaviour so that I never put myself in a situation that will endanger myself or my guests. But as I said some things are unforeseen and if anything were to escalate, my first priority is to keep my guests calm, to always keep a clear head and make the safest decision.
What are your five important rules to life in the wild
Firstly I believe we must never overstep Mother Nature's boundaries – she will always tell you that you've gone too far, so don't keep going. Always be humble and allow nature to teach you a thing or two. If you open your eyes and mind to what's out there you will be at peace and that is worth everything. I've always worked according to a saying I like, "Find what you love and let it kill you."
What inspires you in life and work?
I've always found most of my inspiration for work from my FGASA instructor, Gary Lyon. I looked up to him as a guide and have tried to strive to be like him when guiding. What inspires me most is the amazing things we get to experience out in the wild, it keeps me wanting more.
Best meal and drink on the menu at Jabulani?
I tend to be as simple as I am weird, I love any breakfast foods, but if I were to choose… there is a mean looking French toast stacked with bacon and a poached egg on top that is just to die for, and a simple drink for a simple guy would definitely be a Black Label.
How do you believe through safaris and places like Jabulani, you can help make the world a better place?
Trying to improve the world all at once is a very difficult task, but through game drives we can educate everyone around us, and that slowly branches off across the world, enticing people from further reaches to show a larger interest in the planet and nature. With a better understanding of everything, we can slowly but surely make it a better place.