Jabulani Secrets with Songs
by jabulani
"Through the years I have come to learn that no matter how luxurious or exclusive our lodge may be, it is our people that make our guest' 'experience truly unforgettable." ~ Adine Roode, Managing Director

One such person in our Jabulani family is a young man by the name of Songs.
Songs has a beaming smile that greets you around the dining table. He is the energetic storyteller and passion-spinner – about anything from the wildlife on the reserve to the finest wines in our cellar. He is the inspiration we all need in our lives, having taught himself everything he knows about hospitality simply from books and an unwavering determination to know and achieve as much as he can in life.
Songs grew up in the Eastern Cape but moved to Cape Town after school to follow his dreams. He started working in the scullery before quickly moving up into fine dining waiter service, working in five-star hotels in the Cape. He is the youngest and newest of our Jabulani butler team, having joined the team in September 2017.
Discover more about his many passions in our interview with him below, though the best way to get to know Songs is while he pours you a glass of wine before dinner on your next safari at Jabulani.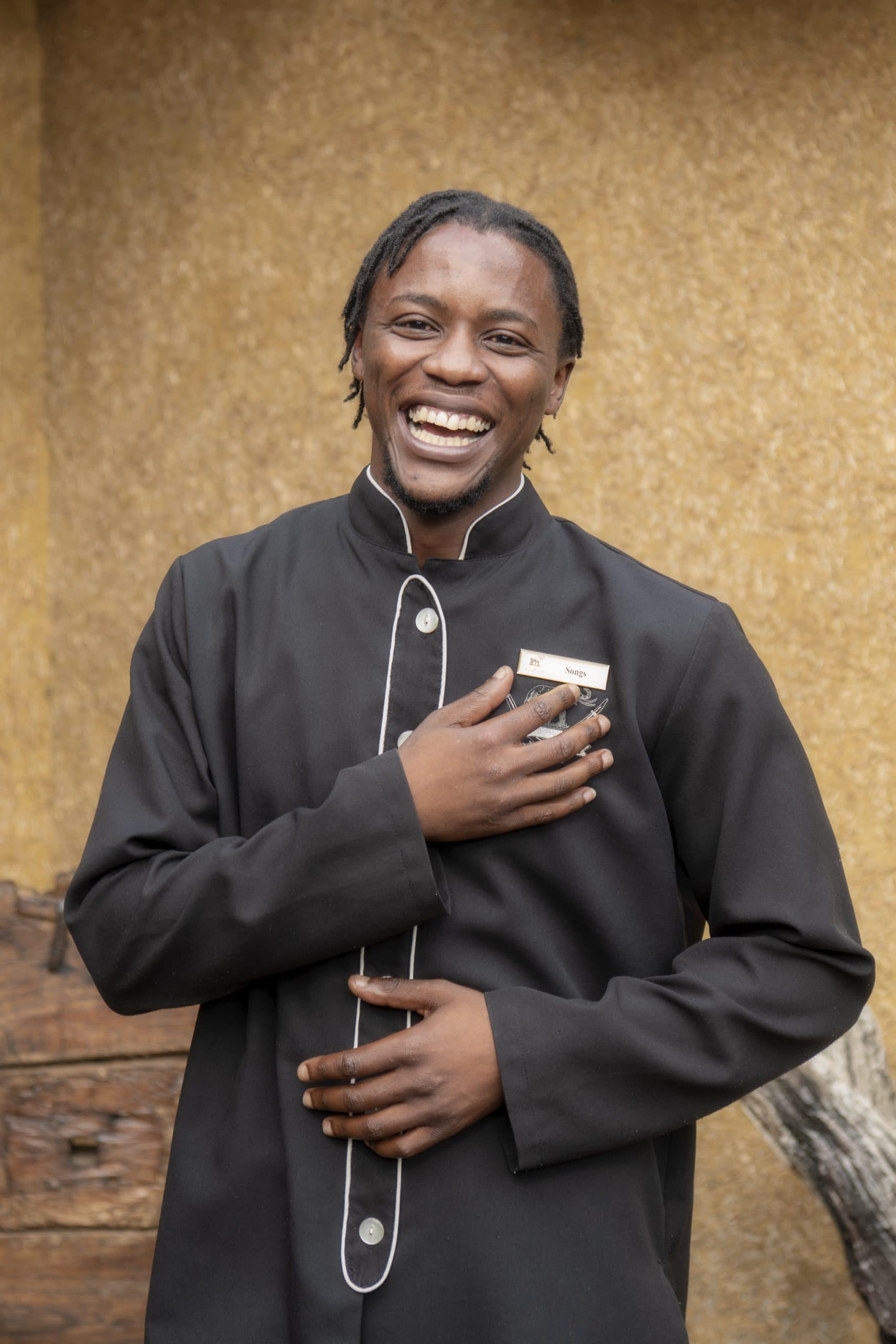 Where does your love for wine and food come from and how has it grown while at Jabulani?
My love of food and wine comes from the Western Cape, where I am from. Since I have joined Team Jabulani, I have become more and more fascinated about it and the different ways of working with and sharing them.
What is your role at the lodge?
I am a butler and also food and drinks connoisseur.
What are the moments spent working at Jabulani that mean the most to you?
It's when I see the faces of my guests filled with smiles and joy when they are blown away by the hospitality we provide for them.
What excites and inspires you in life and work?
My past inspires me, because no matter how good or bad it was, it is what has made me the person I am today. My future excites me, because I can plan it the way I want and I can do what I always wanted, at my own pace.
Best meal and drink on the menu at Jabulani, and favourite place to enjoy them?
I love the cocktails and homemade snacks at the picnic or sundowners spot.
Best wine for…
Romance? Kleine Zalze Brut Rose
For celebration? Beyerskloof Chenin Blanc/ Pinotage
For conversation? Tokara Sauvignon Blanc
For family? Kyburg Shiraz
Favourite pairings at the lodge?
Our Springbok loin with the Middelvlei Pinotage

What are your five important rules to life in the wild?
Don't lose your fear for the wild; remember that everything is designed to protect itself.
Always learn and strive to understand more and more about animal behaviour.
Have a passion for conservation.
Always be alert.
Love and care for nature and Mother Nature will do the same for you.
What new drinks and foods would you love to try or learn more about?
I would like to try more European and Asian cuisine and also learn about the ways they ferment their drinks so that I can grow and be more diverse and creative in my own work.

How do you believe places like Jabulani help make the world a better place? 
They are very helpful and play a key role in conservation. So many of our animals are going extinct and that's where the places like Jabulani help, in ensuring their future. Jabulani is one of my favourite lodges, because of what they do: the rehabilitation of injured, poached or orphaned animals, giving them new homes, love and care.