A Jabulani Wedding
by jabulanisafari
A resplendent wedding in the heart of Jabulani…
On May 1st, the Jabulani team had the privilege to join two people, Hayley and Wayne from South Wales in marriage in the wilderness we call home. Find out all about this special occasion through Hayley's eyes.
"This is how our wedding story began. In 2019 we got engaged in Rome at a place called Hotel Capo d'Africa – quite fitting for what was about to unfold in the future. I donate 10% of my profits from Elestration® to HERD (Hoedspruit Elephant Rehabilitation and Development). I fostered Jabulani the elephant with the profits and got entered into a raffle. By some miracle we won a two night stay at Jabulani lodge, so we thought we should use this gift and get married while we stay. It was definitely meant to be."

– Hayley C Kamans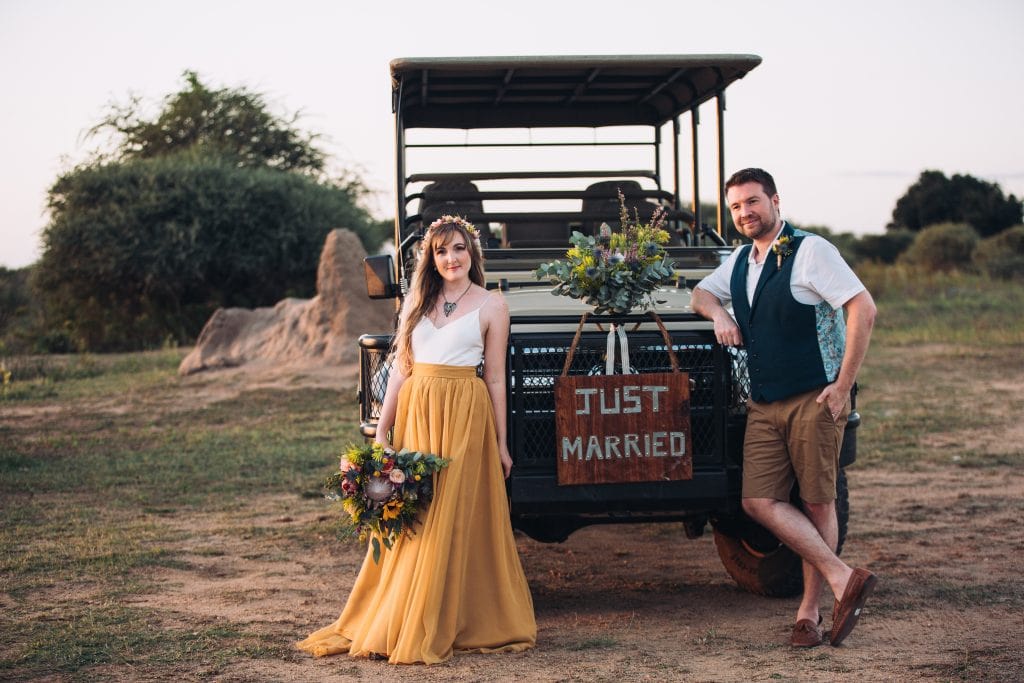 "This was a day that only dreams are made of, the most magical, extraordinary day you could ever imagine. I am an elephant artist, and I always dreamed of us getting married with elephants but never actually thought this could happen. Especially being as my wish was always for it to be completely natural, ethical and all about the wellbeing of elephants. I am inspired by everything about Jabulani, all of the care and the work gone in to building a safe place for Elephants and the money that is contributed from Jabulani to HERD is outstanding.

Our gratitude is indescribable. I had a very clear vision of how I wanted our day to be and every single detail was met, with the help of Ruan, Chantel and the team at Jabulani. They supported my ideas by choosing some of the best local suppliers in Hoedspruit as well as our lovely Minister Johan. We chose our favourite colours to wear on the day and flowers to match and they were spectacular! The day was very relaxed and help was always on hand. I have to give special thanks also to Ansie who was ever so thoughtful on the day and the ladies who helped steam my skirt and my husband's outfit. Ruan also, who always had a calming presence which went a long way especially when planning a wedding and travelling half way across the world from South Wales."

– Hayley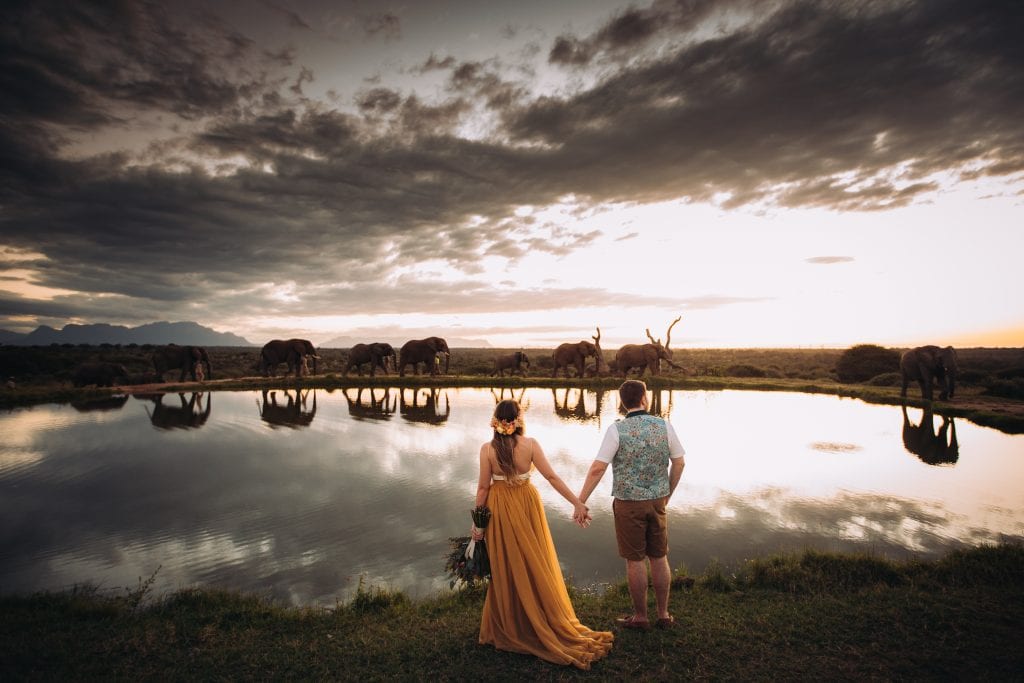 "We got married on 1st May 2022 at Jabulani. The best day of our lives. We went on a morning safari as the sun was rising and got ready in the afternoon. Wayne, my husband to be waited under the arch by the watering hole as I arrived in a Safari vehicle. As we stood at the aisle we were greeted by Jabulani himself who was also our ring bearer, he kindly carried our rings in a small basket and handed them straight to me with his big gentle trunk. He then proceeded to eat the big protea flower that was on the wooden arch. They are so fragrant, elephants love them! I was quite happy for him to take them, he deserved it.

We said our vows, we exchanged rings and said I do, right over the watering hole in the African bush with the elephants close by. The weather was spectacular, the colours in the sky looked painted, it was unforgettable. We had the privilege to stand with some of the elephants and watch them, as they walked around the watering hole back to their homestead. I'll never forget everyone stopping in their tracks, completely lost for words, watching them all walk past as the sun set. I still to this day find it hard to describe it all, maybe there isn't a word, perhaps its just a feeling. If I could describe the feeling it would be like the warm embrace of a sun and all the love in the world all at the same time."

– Hayley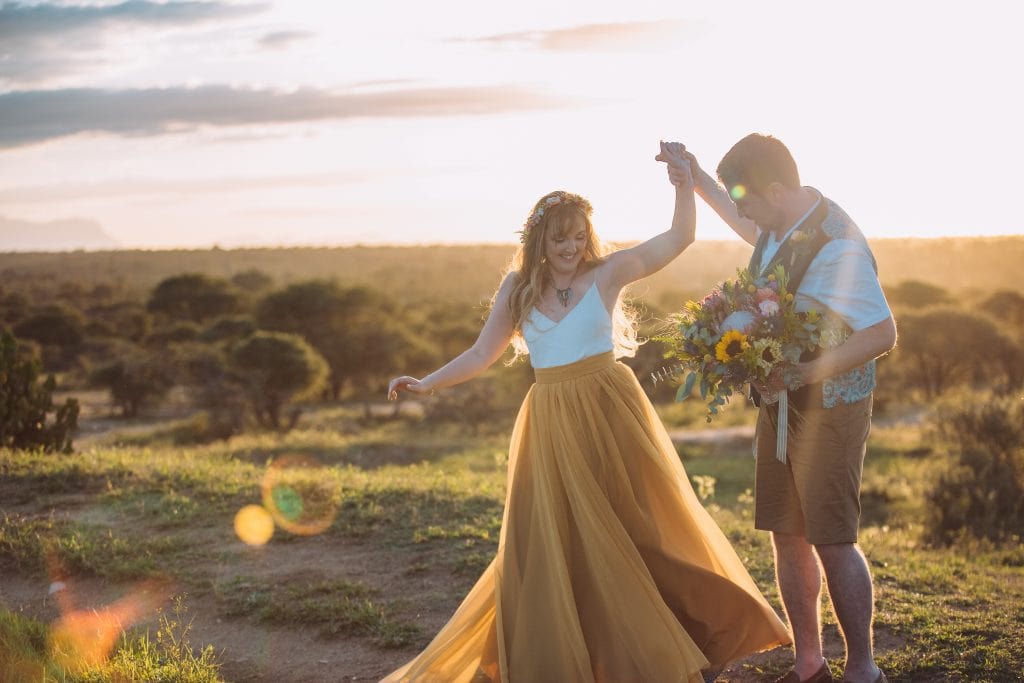 "Our fondest memories before and after our wedding had to be spending time with the Elephants and Jason as he was so knowledgeable and fun, we learnt so many wonderful things. A few favourites had to be stopping and smelling leopard pee which smelt like popcorn! And going on a Bush walk, we felt like we were really in the wild, I could see all the animal tracks as we walked along even a few bones. On our wedding evening we went on a safari drive and saw a leopard curled up sleeping and I remember vividly looking up into the sky and seeing more stars than I have ever seen in my life I think I even saw the Milky Way as it blended into the stars.

Advice we would share to another couple who are planning their wedding – Don't think about it, just do it! It is priceless.

All the finishing touches and the people are what made our experience in Jabulani special, you feel like you're part of a family everyone is so down to earth. We absolutely loved our room and the natural petals left around after the turndown with the animal stories. The boma on our wedding evening was absolutely beautiful we could hear lions roaring from a distance as we were surrounded by our wedding flowers and the handmade wedding cake from the lovely chef Alexzander and the food was delicious as always.

Jabulani will always have a special place in our hearts and so will the elephants and all of the people we met. One day we will return, to this magical place that felt like home."

– Hayley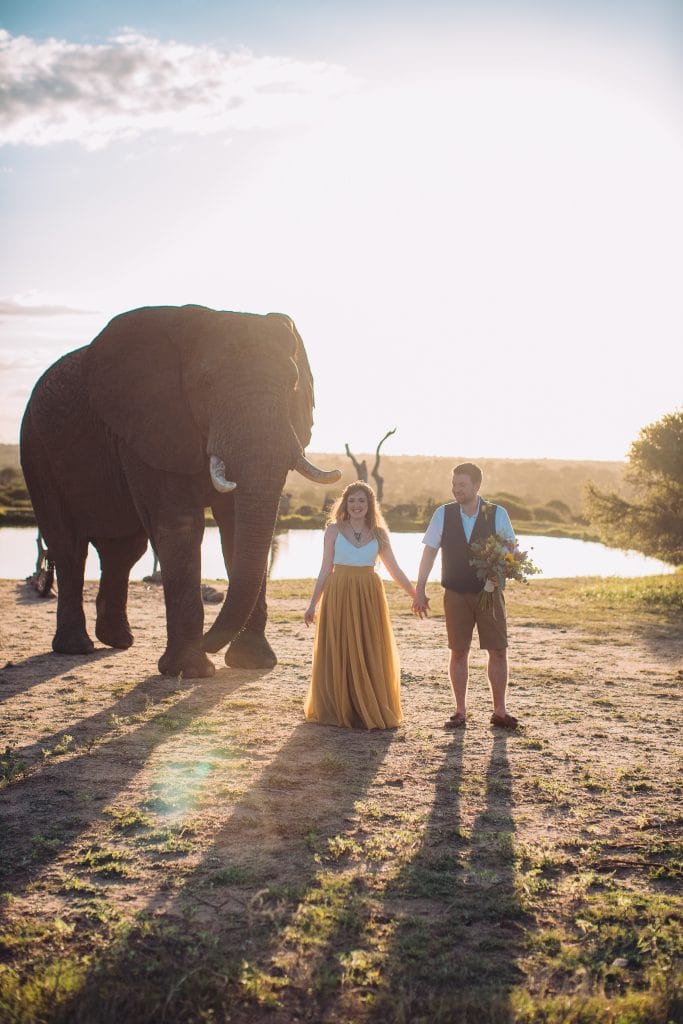 Nothing quite compares to a South African honeymoon safari. Jabulani's emphasis on privacy, exclusivity, luxury, and elegance, makes us the ultimate honeymoon destination. Enjoy the intimacy of your Jabulani suite's private deck and plunge pool, and our personalised romantic settings for every moment of your stay. Honeymooners will receive a bottle of sparkling wine served with chocolates and a romantic dinner for two, followed by a romantic turndown.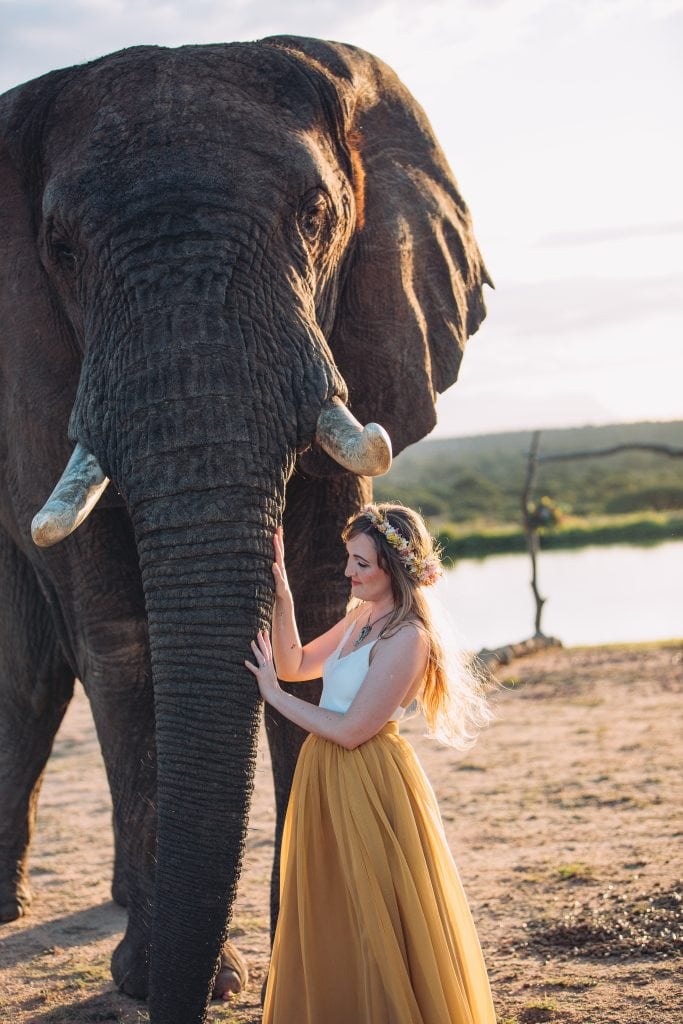 Surrounded by the orchestra of the African bush, in the company of a special herd of elephants, our unique setting at Jabulani promises the most unforgettable bush wedding in South Africa. Jabulani's renowned personalised service, attention to detail and exclusivity, ensures that we will make your special day unfold effortlessly. Please contact us should you wish to inquire about an African wedding at Jabulani.