The Great Aunt of the Jabulani Herd – Get to Know Lundi
by jabulani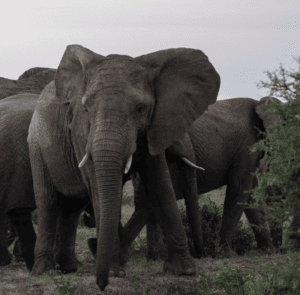 We've spent years getting to know the Jabulani elephant herd. Their personalities are singular, each one a true individual with a unique bond to the rest of the group.
One such individual is Lundi, named after a river in Zimbabwe. We believe her to have been born in 1989 – making her a lady in her early 30s. You'll recognise her easily, because of the tears in her right ear, a mark she had before arriving at Jabulani. Medium in height with fairly short tusks, Lundi is part of the original herd at Jabulani, rescued from Zimbabwe.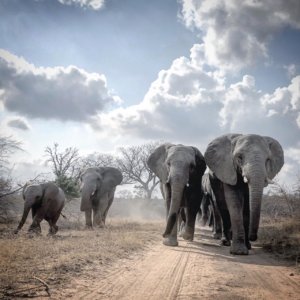 Throughout the turmoil of Zimbabwe in the early 2000s, she bonded closely with Tokwe, the two comforting each other during the chaos of culling during the country's land reformation process. Since then, they have been inseparable.
Lundi is an essential part of our close-knit herd today, featuring her own beautiful idiosyncrasies that make her so intriguing to get to know.
While with us, Lundi gave birth to her son, little Mambo, over whom she is extremely protective. She is also known for her loving support of matriarch Tokwe, helping with all motherly duties for the herd.
She helps Tokwe to look after the younger elephants, keeping an eye on them when out foraging. Loyal, highly-intelligent and honourable in nature, her approach to caring for little ones is calm, but strict should any of them cross the line. We like to think of Lundi as the "great aunt" of the herd, one who takes her responsibility to heart. Understandably so too, since she is second in line to Tokwe in the herd's hierarchical structure.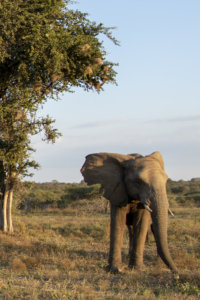 Lundi can be serious and difficult to predict. She has a good relationship with Fishan – who came from the same region as her – but when it comes to the female elephants, she's not the best at socialising. The only exception here is, of course, Tokwe, which is what makes the pair's bond so special.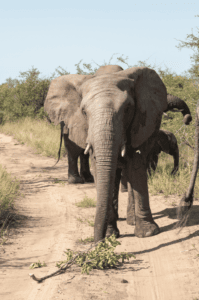 If not out in the bush watching over the youngsters, Lundi can be spotted wallowing in mud, wherever she can sniff it out. At night, she huddles up with her son and Jabulani in their own stable, safe, happy and together.
Meet our Great Aunt for yourself at Jabulani or consider helping us care for her with our Foster an Elephant Programme.