Ranger Reflections by Mike Burnard: February Edition
by jabulani
Jabulani ranger, Michael Burnard tells us about one of the best leopard sightings he has ever come across, in the February Edition of Ranger Reflections.
"One of the best leopard sightings I've had."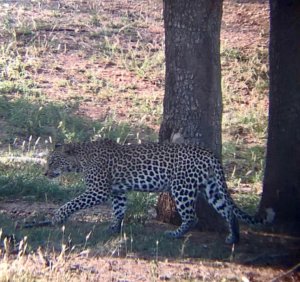 One of the best leopard sightings I've ever had was a few mornings ago. We had been driving around the north-western sector of the reserve for about two hours when we decided to stop for a drink and take a few moments to listen to nature.
After a few drinks, laughs and good stories about the bush, we headed off, slowing meandering back to the lodge, when we got a radio call from a guide who had just seen us on the road. He told us to follow him to a tree where a leopard had made a kill and was busy feeding.
We stopped a little further away from the young male leopard that had killed a big male duiker and hoisted it into the tree. We sat there in absolute silence, watching the male eating, while he tried to negotiate the thin branch he had chosen, almost dropping the kill a few times and nearly falling out of the tree himself. After he had had his way with most of the duiker, he moved to a more comfortable branch to take a nap.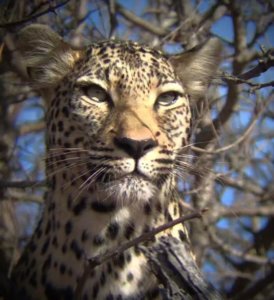 The next morning…
The next morning, we took a drive to see if we could find this extraordinary young male again. We started our search at the last location that we had seen him at. We followed his tracks all the way to a watering hole. And then one of the guests suddenly shouted, "I think I see him!"
The leopard was sitting right next to the watering hole. We viewed him from across the dam for a while, before trying to get a little closer.
Still across the dam, but only about 30 metres from us, he lay under a bush for some time, before getting up to mark his scent on a Tamboti tree. And then he walked off calmly into the bush.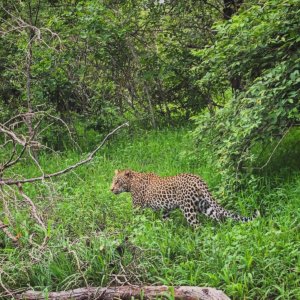 It's not so much the kill or finding him again that made this such an important sighting for me, but it was about getting to spend close to three hours with the leopard male, and viewing his movements.
His calm nature and cool personality are what sets this sighting apart from any other I have had to date.
I look forward to seeing him again and spending more quality time with him in the bush.