Professional Kosher Chefs visit the Jabulani Kitchen
by jabulani
A recent family at Camp Jabulani, booked our entire lodge, and requested access to our Kitchen for their specialised Kosher chefs that were traveling with them.
Chef Alan Bender and Chef Doron Gavronsky,  who then worked together with our chefs, Dylan Frost and Zandrie Boucher, to cater for this lovely family.
Chef Dylan shares his experience of working with these two incredible chefs, and what he learned about cooking for Kosher clients:
"The amount of knowledge that myself and Zandrie were introduced to, was invaluable. I have grown a massive respect towards the Kosher way of eating. During this time, we learned not only of the dietary requirements, but the reasons behind them, according to their religion, which made sense, and gave us a new-found respect for it.
Before we started, we had to ensure the kitchen was primed for Kosher requirements. This entailed a lot of work, and was extremely interesting to be involved in. First, we had to remove any equipment that was unable to be Koshered. Then, we scrubbed everything from top to bottom (though it was of course extremely clean to start).  On arrival of Chef Alan, the kitchen then had to be blow torched.
We divide the working areas into two separate sections, "Fleischik" (Meat) and "Milkchik" (Dairy). The law is simple, meat cannot mix with dairy at any time. Chefs cannot cook dairy in the same oven, stove, pan or any kitchen utensil. So, you have to have two sets of equipment, one for Meat and one for dairy. Fortunately, our kitchen is equipped for this.
In the centre you create another preparation section called "Pareve", which can go with either meat or dairy, but it has to be prepped in the section that it will be cooked with. Fish is considered Pareve, but cannot be served on the same plate as any meat products. You can however, serve fish in the same sitting. For example; Fish Starter, Beef Main and Dessert.
Chef Alan and Chef Doronsky were fantastic to work with, they guided Zandrie and I along every step of the processes, and were always willing to answer our questions, no matter how silly or repetitive they may have been. With the amount of knowledge, they passed on to us, I can truly say that I am comfortable to prepare medium Kosher meals for guests that would like to stay at Camp Jabulani.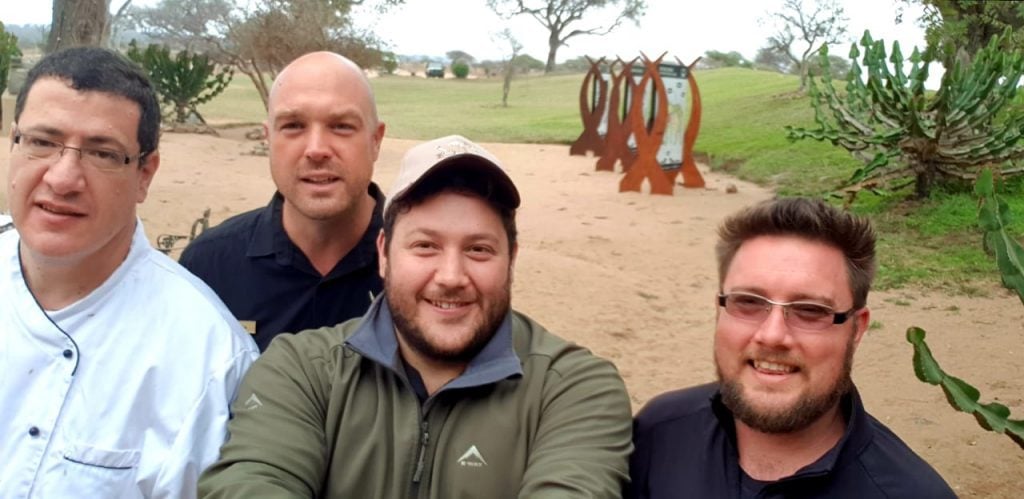 In turn, Chef Doron expressed how impressed he was with the Jabulani Kitchen, saying it was the best kitchen he had ever worked in, which made me very proud, as Executive Chef."