Pack for a Purpose ~ A Way for Jabulani Guests to Give Back
by jabulani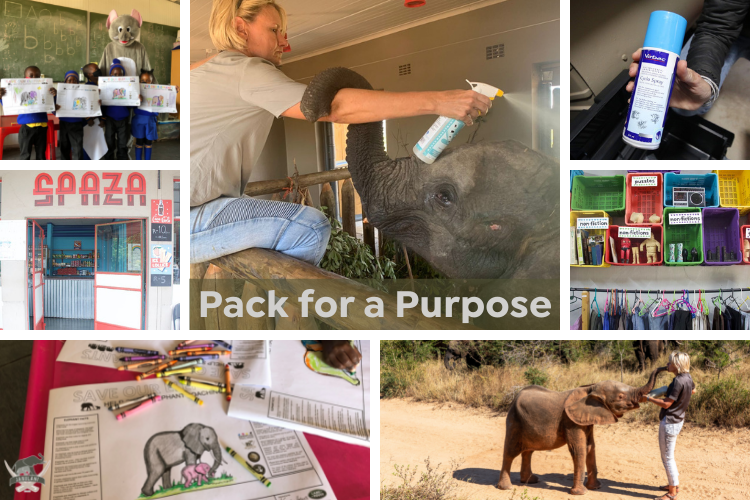 "There is nothing more important in life than giving. Tolerance is forged when people look beyond their own desires." ~ Nelson Mandela
Jabulani Safari is proud to be a part of the Pack for a Purpose initiative, which aims to encourage travelers across the globe to make a positive impact on the communities they visit. All it takes to make a difference is saving a bit of space in your luggage and adding a few extra goodies to your bags.
By adding a couple of items to your shop or having a quick look at home for items that may be unused or forgotten, guests have the potential to make the world of difference to someone else.
The three projects that Jabulani Safari supports through Pack for a Purpose are:
Each of these projects has a list of essential and dream items that assist tremendously in their daily operations. From medical goods to art supplies, clothes, toys, and books; every item that guests bring along on their trip will make another person (or little elephant!) extremely happy.
Hoedspruit Elephant Rehabilitation and Development (HERD)
HERD is South Africa's first dedicated elephant orphanage and was founded by Jabulani owner and MD, Adine Roode. The orphanage's objective is to care for and rehabilitate orphaned elephants and to integrate them into a new family, namely the Jabulani herd of elephants.
HERD relies on public funding in order to operate and a few simple items added to a guest's suitcase have the potential to make a great difference to the orphanage.
Items like hot water bottles, aqueous cream, syringes, dishwashing liquid, Diomec Paste Plus (60m), and flashlights are used regualrly at HERD and would be incredibly appreciated. Find HERD's full wishlist HERE. If you would like to donate to some of the larger items on the HERD wish list, you can do so HERE.
Mpisi Primary School
Mpisi Primary School is a school within our greater Hoedspruit community that is very dear to Jabulani and HERD. In fact, Junior Carer at HERD, Khensani Ngobeni attended this school as a youngster!
The school has roughly 800 learners from Grade R – Grade 4, while the high school, with Grades 5 – 7, has 1 400 learners. The school is dedicated to teaching in a fun and meaningful way that promotes sustainability and conservation.
The learners are in need of art supplies, stationery supplies, reading books, chalk for the boards, paper to write and draw on, and gardening supplies. Find out more HERE.
Hlokomela Clinic
Hlokomela is an HIV and AIDS treatment and educational programme operating predominantly within the greater Hoedspruit and Phalaborwa areas. The organisation aims to reduce vulnerability to HIV and AIDS through providing education, support, preventative measures, and through raising awareness.
Hlokomela also assist in the treatment of those suffering symptoms, as well as empowering local communities through their various projects. This project has been running for 11 years and reaches an estimated 25 000 people annually.
Jabulani is proud to be able to partner with Hlokomela for this initiative and we look forward to sharing more about them with our guests.
View Hlokomela's full wishlist HERE.
We look forward to packing for a purpose with our valued guests.