March Ranger Reflections by Liesa ~ With Chutney the African Grey Parrot
by jabulani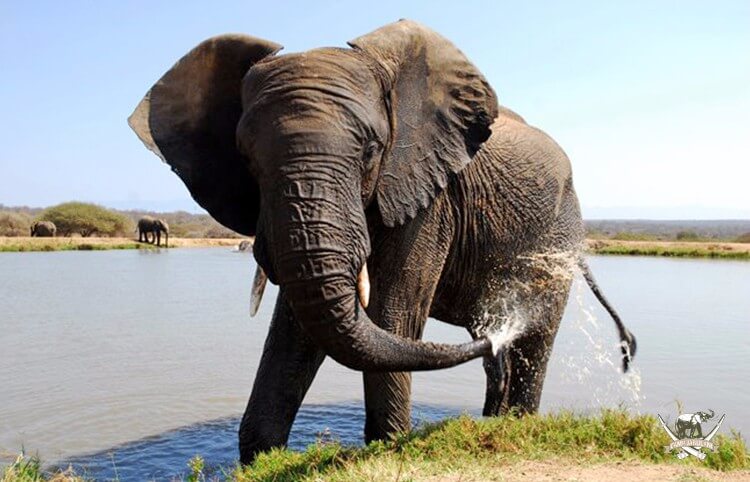 The Adventures of Chutney the African Grey Parrot
Written by Ranger, Liesa Becker
It was about a month or so ago, when I got back from safari and upon entering the office, I stopped dead in my tracks… for there was the most beautiful African Grey Parrot chatting away. I unfortunately recognised him as the unfriendly Chutney that I had gotten to know at the Hoedspruit Endangered Species Centre. However, I soon came to realise that I judged him too soon. He was simply misunderstood. Alright… I will admit, it took a couple of days for me to warm to him.
But now I am getting way ahead of myself. Allow me to start at the very beginning.
Chutney is originally another one of our incredible owner, Adine Roode's animal children. He joined their family and household in 2010 as a little one, with no feathers, coming from a local pet shop.
Adine proudly tells how he used to travel with them absolutely everywhere, including on holidays. Whether it was a 500km trip or even 1200km – Chutney always joined! Adine tells how he once got lost when a big gust of wind picked him up and carried him over the rooftop of their accommodation by the sea, but he was thankfully found after a day. As Adine's kids grew up, and went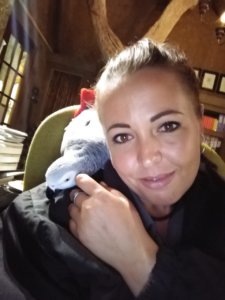 to university and since she, of course, travelled a lot for work, she did not want him to get lonely and thought it best to take him to HESC where he had Koos, another African Grey, as a friend. During a recent meeting at HESC, it was decided that Chutney would join the Jabulani family. And now… we have another resident, or should I say family member at Jabulani!
"…Chutney will join the Jabulani family"
Anyone who knows me will tell you that that in itself absolutely thrills me! I love animals and I especially love it, even more, when these animals have the most incredible and humorous personalities. And when you can pet them! I will say though… Chutney is not fond of everyone touching him.
After a couple of days of him being at Jabulani, I came in the office after a safari and, as I always do, tried to pet him. And he actually let me! That is how our love affair started.
Chutney also absolutely loves chatting. Whether it is just making funny noises or having a full-blown conversation. Ruan, our Head Guide has taught him the Ed-Edd & Eddy cartoon theme song. I taught him how to dance – well, what he thinks is dancing. We'll call it head-banging. I especially love our night-time bonding.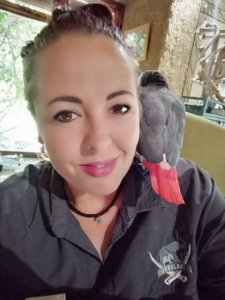 When I return from safari, upon entering the office, he usually sits on his bird-house and as soon as he hears me, he lifts his one leg, "telling" me he wants to be picked up. So then we go outside, have a chat about the weather, how our days were, etc.
One day, he did not want to climb back onto his birdhouse, so I decided to let him go with me as I took my safari-vehicle round back. I think if someone saw us, they would have handed me an eye-patch, because surely I must have looked like a pirate with my Parrot. We have many adventures together. He has even napped with me.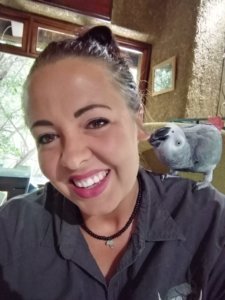 "Everyone here at Jabulani loves Chutney!"
He has the most versatile personality and his favourite thing to do when we are all laughing is to burst out in chuckles with us. He is just a massive character with beautiful grey and red feathers!
Thank you Adine, for bringing this funny bundle of joy to Jabulani!