Mambo goes missing!
by jabulani
Our followers will know that Mambo is by far the most adventurous, curious and often the most headstrong of the Jabulani herd elephants too.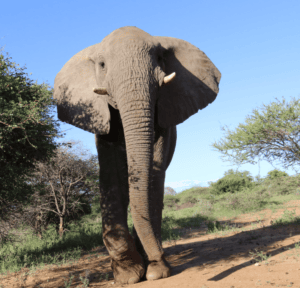 Last week Mambo decided to chase after the wild herd of elephants on Kapama, after hearing them trumpeting. A few of the herd chased after him but soon returned.
On occasion members of the Jabulani herd do wander off for some time, but often return within a day or so. However, Mambo disappeared for three days, which was peculiar behaviour, and there was no sign of him with the wild herd either. He is still a young bull, just 11 years old, and often a bit too confident, and we felt sure that he had perhaps gotten himself a bit lost.
Our elephant care team managed to track him down using pictures of his spoor (footprints), and finally Owen and Last found Mambo quite far south of the reserve, and a far distance from where he had originally run from.
Last said his reaction was priceless when he heard their voices he was so happy and joyful and showed such relief in seeing them. After a few moments of catching up, Tigere and Samson joined Last and Owen and they all set foot back home towards the rest of the herd.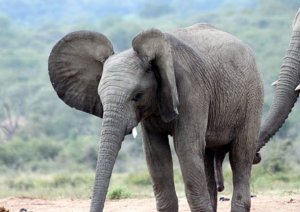 As they approached the stables Mambo ran towards his herd, and they ran towards him, it was a special moment, but it was too dark to capture on video.
The next morning, Owen said that Lundi, Mambo's mom, gave him a bit of telling off with her trunk, hitting him with it. We wish we had seen that for ourselves!
We are glad Mambo is safe and sound, though we are sure his ego is a little bruised with the wild herd not being too interested in his presence!
Tigere and Last gave a detailed explanation of the events to Adine during elephant swim yesterday!