Jabulani Team Master Chef Competition
by jabulani
CAMP JABULANI MASTER CHEF 2019 COMPETITION
FRONT OFFICE VERSUS RANGERS
Six brave and hopeful Cheflings, three surprise ingredient boxes, four judges, but only
ONE determined staff member could be the winner of the Jabulani Master Chef 2019, who would "step up to the plate?".

During a quiet day at "the office" we took the rare opportunity to put some of the team's culinary skills to the test, to see if perhaps we had a hidden chef amongst us that we had not yet identified.
Our chefs, of course, were delighted to have lunch served for them for a change, so were hasty in volunteering to judge the cook-off. Stefan who fancied himself as Matt Preston (of Masterchef Australia), very kindly helped the judges make their (difficult) decisions.
Two teams of three people who volunteered to partake, each competed against one another, and the two winners of that round then cook against each another.
Team 1: Chantel Du Toit (General Manager), Lynn Claassen ( Accounts) and Schalk Human (Safari Manager)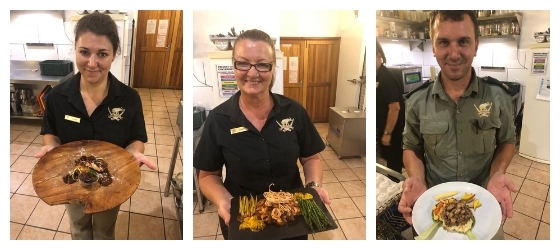 Team 2: Ruan Roos (Head Ranger), Dean Wilkinson (Ranger) and Liesa Becker (Ranger)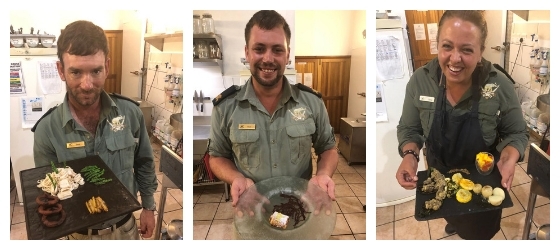 Each person had to pick an ingredient box, which held one of the following combinations hidden inside it:
Ingredient Box 1:
Calamari | Egg Noodles | Red Onion | Orange | Yellow Fine Beans | Asparagus
Ingredient Box 2:
Chicken Breast | Baby Potatoes | Pak Choi | Mango | Sesame Seeds | White Asparagus
Ingredient Box 3:
Puff Pastry | Lemon | Pine Nuts | Strawberry Jam | Icing Sugar | Dark Chocolate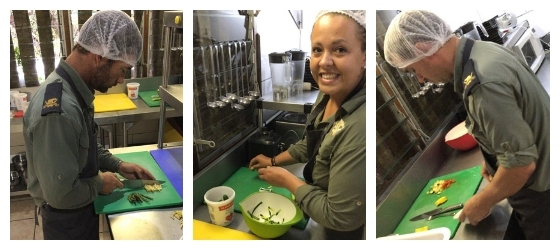 It was not easy for the judges having watched them pour their heart and souls into making meals out of rather difficult ingredient combinations and under highly pressurised conditions;-)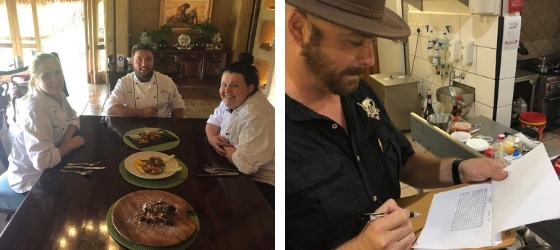 The Winners of the first Round were Lynn Claasens and Ruan Roos.
It was then time for them to compete with a new set of ingredients, which were the same as each other.
The FINAL ROUND Ingredients:
Rack of Lamb | Green Apple| Red Lentils | Whole Grain Mustard | Potatoes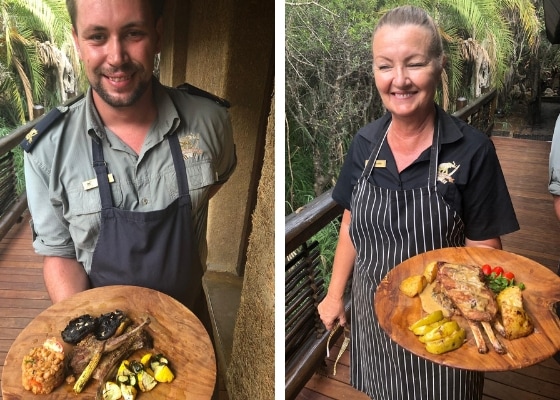 And the official JABULANI MASTER CHEF 2019, is RUAN ROOS!
Congratulations to Lynn for coming an extremely close second, and to the rest of the team for being fantastic
sports in taking part