Jabulani Secrets with Schalk Human
by jabulani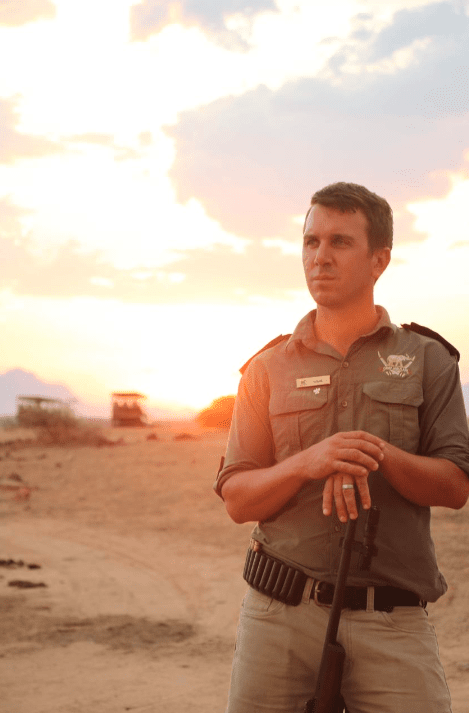 Jabulani Operations Manager, Schalk (pronounced Skalk) Human's journey with us began in 2014 when he joined the lodge as a junior ranger. Since the early days, he says he has "grown within the company as well as in myself," having gotten married and started a new family. "I am now a proud father of a four-year-old boy and an eighteen-month-old baby girl," Schalk says. Work and family are two of the most important things in life for him. But we'll let you get to know more about Schalk for yourself, in this Q&A with the man who lies at the heart of life in our private wilderness.
We all have our different connections to nature and the animal world. Can you describe yours?  
The first impression is key to me. I connected with Jabulani the elephant during a walking safari back in the day, when a lion came charging out of nowhere. Jabulani, at that time, did not even know me, but still, he saw the need to protect me and he came running past me and chased the lion away.
How have you developed your understanding of the South African wilderness? 
I grew up on a farm in the Northern Cape. Every holiday, my brother and I were out at sunrise every morning and off hiking, spending most of the day in the mountains and at night time herding sheep back to their kraal. When I was older, we moved to the city and after school, I had an urge to get back to wide-open spaces. I did a field guiding course in 2012 and realised that was – and continues to be – my passion. I followed my heart.
What are the moments of living and working at Jabulani that mean the most to you? 
To be able to live with my family in the bushveld, and to work with such an awesome team.
How has Jabulani inspired you in terms of your life's passions? 
Well, I wake up in the morning and can't wait to start my day at work.
What is the weirdest thing you love about the wilderness? 
The way the bush reacts after the first summer rain.
How do you handle fear in the wild? 
Myself, not too bad, it's part of my job not to run when there is danger!
What are your five important rules to live in the wild? 
When you face a mountain, relax. Sometimes problems can solve themselves
It is very important to contribute to the sustainability of the bush.
Create as little interference to the environment as possible.
Respect nature.
Leave a footprint.
What inspires you in life and work? 
In life, my Father. In work, a new project.
Best meal and drink on the menu at Jabulani? 
The Jabulani breakfast and a good cup of coffee.
How do you believe through safaris and places like Jabulani, you can help make the world a better place? 
By going on safari to a place like Jabulani, even if simply to enjoy myself, I know that I am helping to create jobs and contributing to the welfare of wild animals at the same time. And this is just the best feeling!