Jabulani Secrets with Ranger Juan Hattingh
by jabulanisafari
Meet Jabulani Ranger, Juan Hattingh!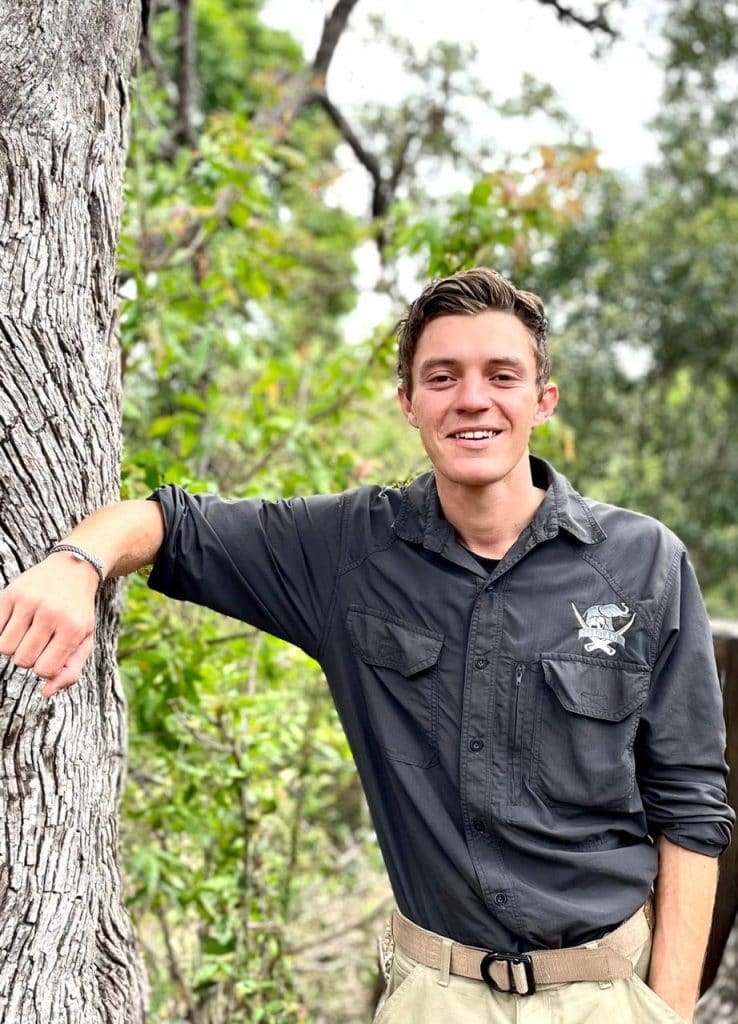 1. We all have our different connections to nature and the animal world. Can you describe yours?
Nature has been a part of me for as long as I can remember. From running around catching frogs to chasing my siblings with those creepy crawlies. I still remember continuously asking my parents as a kid the strangest questions, constantly: "why this, why that" and I would love to listen to my dad explaining the answer to the riddle. I was very fortunate to grow up in an environment where I was in nature permanently. The seed was planted for what became my love for each and every individual species. The best feeling in the world for me is when I can provide valuable feedback to a guest's question about nature which others are unsure of and seeing their reaction afterwards – knowing they will never forget that one fact that caught their attention. I like to call it the "whaaatttt factor". I think the closer I am to nature the closest I am to being myself and when it comes naturally it's not work anymore.
2. How have you developed your understanding of the South African wilderness?
Understanding South Africa's wilderness is not as easy as one might think, if you think about humanity and that we only know and are able to explain a handful of what's really going on behind the walls. For one to understand nature to its core, I would say experience is by far the biggest contribution to knowledge. One thing that I have learnt is that nothing is set in stone and that there is always something interesting lurking around the corner – often things we overlook but that are still fascinating.
3. What are the moments of living and working at Jabulani that mean the most to you?
The team at Jabulani make it all meaningful! From housekeeping to our butlers, there are so many friendly moments behind the scenes. When you're working long periods of time, it makes the environment so much better having positive smiles and laughter all around you.
4. What is the most unusual thing you love about the wilderness?
I love that every individual species has their own funny or weird adaptation to survive and strive in their natural habitat – from butterflies copying the flight pattern of other butterflies to ants walking in a straight line.
5. How do you handle fear in yourself and guests?
I would say "handling" fear depends on the situation, and that this is where experience is so important. A wise man once told me that your body language when in a tough situation will determine the outcome of your guests' behaviour, and for me that is the main factor I take into consideration when in a tough situation (it's like a mirror). Every situation is different and by using certain guidelines and observing signs shown by the animals you can create a memorable sighting that the guests so well deserve.
6. What are your five important rules to life in the wild?
Probably the most important for me is to always remind yourself that anything could happen at any point in time.
It doesn't matter what happens, it's crucial that you always take a step back, gear down, breathe and observe – whether working with potentially dangerous wildlife or amongst your team.
While out in the bush, even when unsure of what might be around the corner, never run! Animals are smarter than we give them credit for and by running you might just go from an animal being inquisitive to getting a fright and reacting. You do not want to overstep the zone of respect, especially seeing that we are in their home.
Never think that you are the boss and never expect an animal to react the same every time.
Always know your limitations and never forget that we live in the wild and that anything is possible at any time.
7. What inspires you in life and work?
My dad and my family inspire me to be the best that I can be and to make opportunities rather then to wait for them! Inspiration comes naturally when you love what you do. Motivation from team mates pushes me to learn, because there is always something new to question and to learn about. There is always a reason to strive to be the best possible guide that you are able to be. My biggest inspiration is to plant a seed in a guest's heart so that they go home with a memory and not just a photo.
8. Best meal and drink on the menu at Jabulani?
Definitely the butternut soup!
9. How do you believe you can help make the world a better place through experiences and places like Jabulani?
I would say working in this environment gives you the opportunity to educate people about what is really going on and the impact humanity has on the environment. Working with HERD (Hoedspruit Elephant Rehabilitation and Development), a PBO, shows that there are still many people who truly care for the wellbeing of individual species, in particular those who have suffered due to human settlements being built around where they once called home.
It's the small things we do that changes people's lives on a daily basis.