Jabulani Amarula Macarons (Amacarons!) – A recipe to be made with love
by jabulani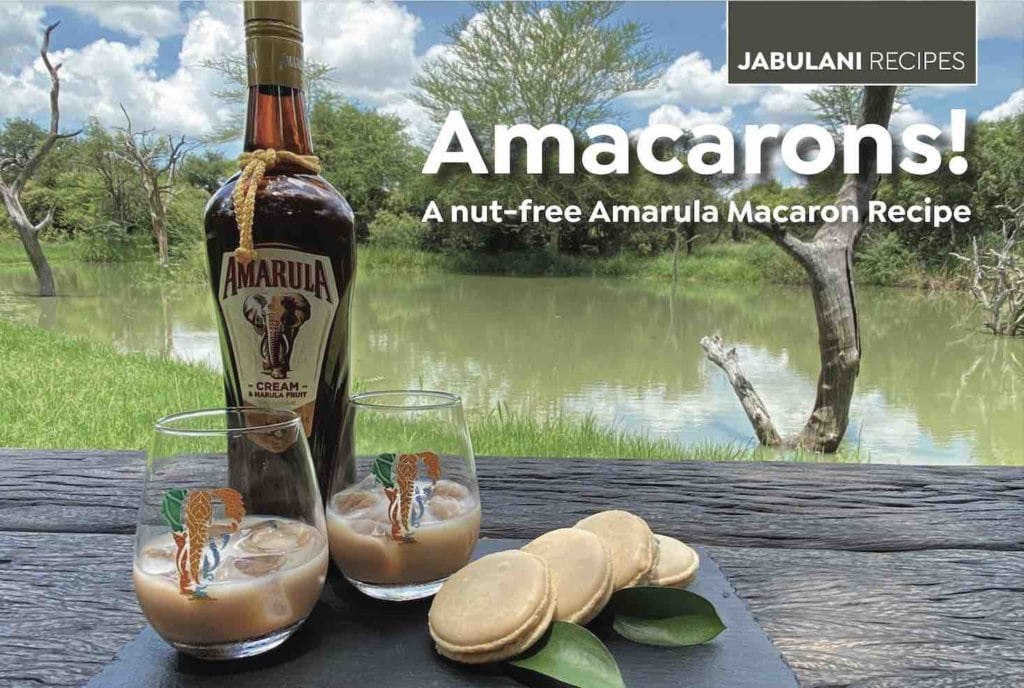 A well-made macaron is pure confection heaven. Add Amarula to the recipe and enjoy an extra special taste of Africa!
Jabulani Executive chef, Dylan Frost has shared his "Amacaron" recipe for you to try your hand at, at home.
Amarula has a special place in our hearts at JABULANI, as both Sebakwe and Jabulani, two of the older bulls of the Jabulani Herd, have appeared in various Amarula marketing campaigns. You may recognise him in this previous campaign:
THE RECIPE (USING REGULAR FLOUR – NUT FREE)
DOWNLOAD RECIPE PDF HERE FOR AMACARONS – NUT FREE VERSION
DOWNLOAD RECIPE PDF HERE FOR AMACARONS MADE WITH ALMOND FLOUR
INGREDIENTS for AMACARON SHELLS
2 large egg whites
4 tablespoons castor sugar
1/2 teaspoon 1⁄2 cup all purpose flour (65 g)
1⁄2 cup powdered sugar (icing sugar) (55 g)
1⁄2 teaspoon vanilla extract
5ml Amarula
BUTTER ICING INGREDIENTS 
250g butter room temperature
450g powdered sugar (icing sugar)
25ml Amarula
METHOD FOR MAKING AMACARON SHELLS
In a bowl, beat egg whites until frothy
Gradually add the castor sugar until stiff peaks form
In a separate bowl, whisk the flour and powdered sugar (icing sugar) together. Then, sift the flour and powdered sugar (icing sugar) mixture into the egg white mixture
Add the vanilla extract, and gel food colouring if you want the macarons to be coloured
Gently fold all the ingredients together
Transfer the batter into a piping bag with a rounded tip
Pipe the macarons onto a baking sheet with parchment paper. Gently tap the baking sheet on a flat surface a few times to release air bubbles
Let the macarons sit at room temperature for about 45 minutes
Preheat the oven to 140 Celsius
Bake the macarons for 17-20 minutes
Allow the macarons to cool for 10 minutes, then transfer the macarons onto a cooling rack
Add a dollop of butter icing or any icing of your choice to one of the macaron shells, then top it with another macaron shell to create a sandwich.
BUTTER ICING METHOD 
Mix powdered sugar (icing sugar) and butter together and mix the Amarula in once mixed throughly.
We hope you enjoy the recipe – please do share your Amacaron kitchen success stories by emailing us at media@jabulanisafari.com!