'I talk and live with elephants. That's my story.'
by jabulani
Sometimes it just takes a single moment for everything to fall into place. A simple conversation to see beyond the words.
As we celebrate Family Day and Earth Day today, we're reminded of a recent moment under the trees at sunset in the reserve. Jabulani was reaching up on his hind legs to get at the fruit dangling above him and Stavros, one of our level four elephant carers, was a few metres to his side.
Taking in the scene, we asked Stavros what his connection with the elephants was like these days. Considering all the time that has passed since he arrived with the herd.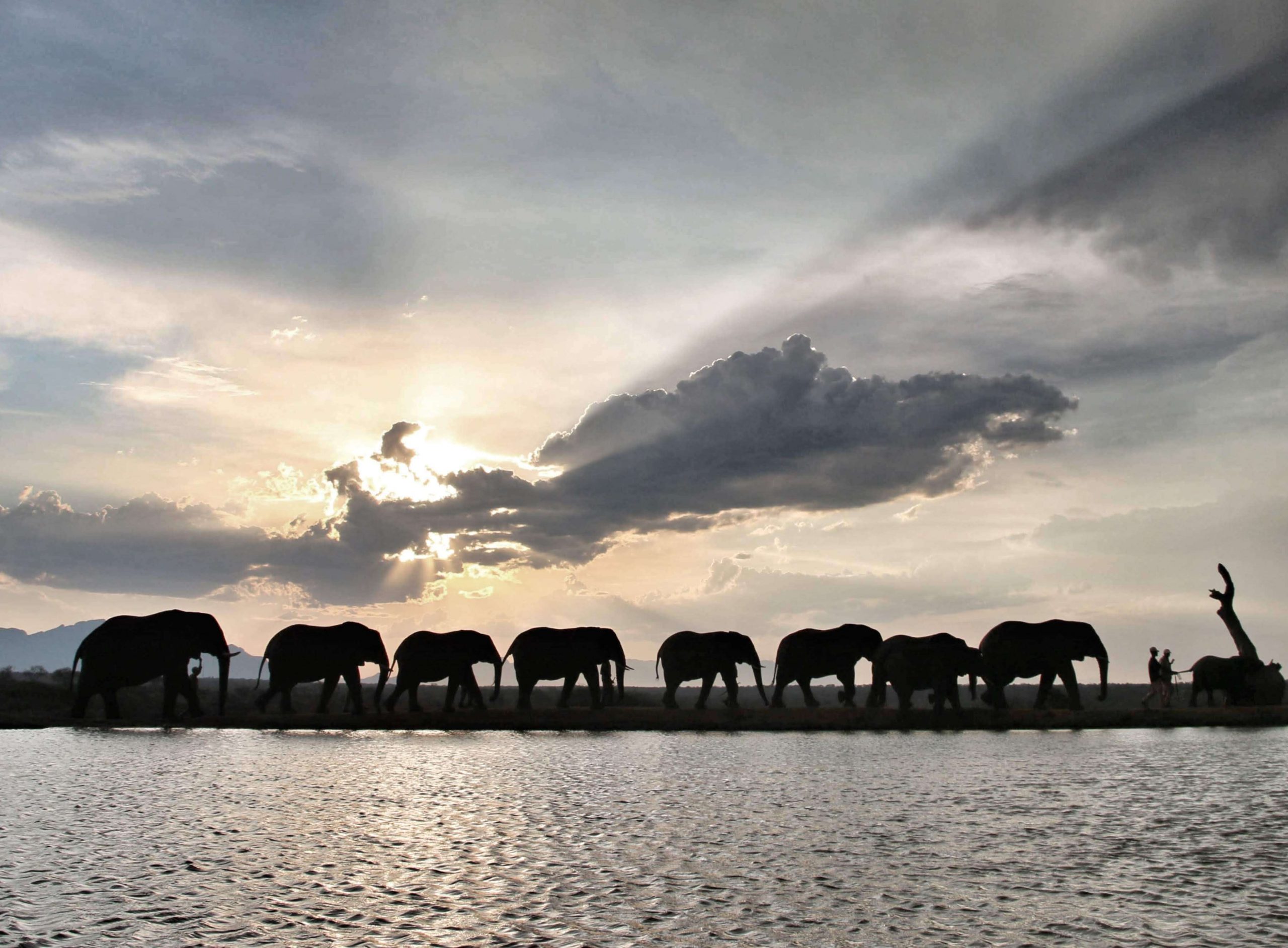 "I have been working here with these elephants since 2002," he told us, his face lighting up with more than merely the evening's golden hour. "They are like my children! When we take the elephants to the bush to eat or to swim, I feel happy. I love it too much, to work with elephants. When I am with them, I feel good."
"I stay here with them," he said pointing to the stables. "My house is next to theirs. I have a window that I look out of to watch over them. If I look and see they're playing, it's good, but if, at night, they scream, I hear them and go out and see what's happening. If they are fighting, I say, No no! And then they go, Ok, Stavros has said no. And they stop. That's how I talk to them. I talk to elephants. I live with elephants. That's my story."
As quickly, as poignantly, as that, you start to see how much the herd means to the carers.
For Earth Day this year, the theme is: "Protect Our Species" – a call to raise awareness about and to do our part to help save the endangered, threatened and diminishing species of fauna and flora all around the natural world.
It feels almost serendipitous that this day falls on the same day that we celebrate the spirit and bond of family, because protecting endangered species is exactly what unites our family at Jabulani, what gives us life and purpose.
However you define family… human or animal, connected by blood or friendship, immediate or extended, nuclear or blended… to care for family is to care for the earth; to care for the earth is to care for the family.
The family bond is something forged over time, through experiences, through compassion, through the many ways we show love. And it has been the same in the connection between our carers and elephants. Like the rangers who protect the mountain gorillas in Virunga or the handlers who walk with anti-poaching dogs in the Kruger National Park, our carers and elephants have a bond that runs deep.
Our two Elephant Managers, Isaac and Tigere, and four tiers of 25 carers are responsible for looking after all 15 elephants. Like Stavros, many of these men were born in Zimbabwe and came to Jabulani with 12 of the elephants that now make up our herd. It was in 2002, when these 12 elephants were rescued, after being orphaned by culling operations in Zimbabwe in the 1980s. It was a time of great political instability in the country. Both elephant and carer narrowly escaped death.
In many cases, the stories of these elephants are the stories of the men. They have lived similar histories. They have survived similar pasts. Perhaps this is what enhances the bond between them.
Today, the carers all have different levels of responsibility, depending on their experience, knowledge, leadership and diligence, but each one is committed to the well-being of these intelligent and sensitive animals. They know that the elephants rely on them, as a child does its mother or father, its guardian.
And like guardians, they monitor what and how much the animals eat, they maintain the stables, keep the animals safe, make sure staff and guests follow safety rules, and, as Stavros says, they talk to the elephants – to familiarise them with their voices.
Since the family that plays together stays together, they join the elephants as they roam, forage and go for dips in the dam in the reserve. They know the intricacies of each one's individual personality – possibly more than they know each other's.
In the indispensable care of elephants, the men have created a lifelong profession, a way to support their own families. Their human families.
And our family keeps growing.
Over time, Jabulani and the herd have taken in new orphans or lost baby elephants as though they were their own, helping to raise more gentle giants. Helping, little by little, to rebuild an endangered but essential species.
This is the importance of family, the power of strength in numbers, the potential of unconditional compassion.
With this approach, treating the earth and its beings as family, remembering the connection between human and animal, perhaps we might rebuild not just one species, but several.
Perhaps we could harness the power of family to create a better world.
Read more:                        
https://jabulanisafari.com/elephant-carers/
https://jabulanisafari.com/the-love-between-a-groom-and-an-elephant/