Fishan's 2nd procedure on his fractured leg- By Adine Roode
by jabulani
Fishan is one of the largest and oldest elephant bulls at Jabulani, and one of the original herd that were rescued from Zimbabwe. Recently he injured his leg quite seriously, and fractured his lower ulna bone. 
In my  previous post, I explained the processes that led up to the first fibercast application on Fishan's injured leg, which took place on the 22nd October, as well as the procedure itself, which went according to plan. I thought I would describe in greater detail, the moments that followed after the anesthetic wore off.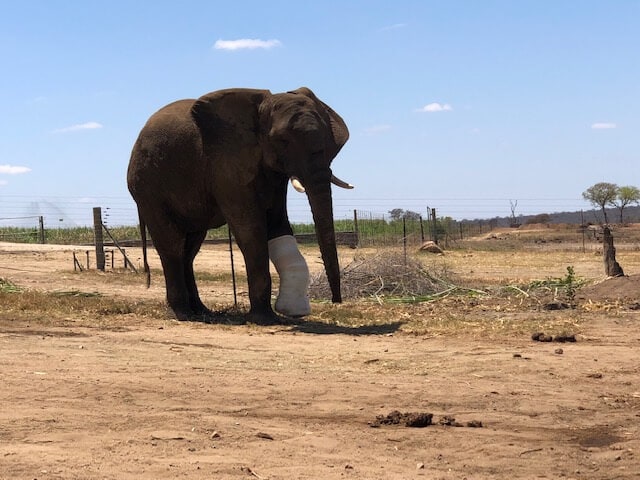 Fishan standing up after his first treatment, where a fibercast was applied
At first, Fishan struggled to get back on to his feet, which is completely understandable having been sedated for just over three hours. Anyone who has woken from sedation, can relate to that feeling.
As he was anaesthetised, he had laid down with his legs facing uphill, which made it more difficult for him to stand up. So, he also had the challenge of turning himself first, which he did with much motivation from our team. It took 15 minutes for him to stand upright. Fortunately, the cast did not crack during the process.
After gaining balance, he moved directly to his supply of water, and eagerly started feeding on lucerne and bana grass that the elephant carers were eagerly waiting to give him. We were happy to see that he still had his usual appetite.
Over the days to come, we were pleased that the cast stayed in position, and we could see a huge difference with Fishan's weight transfer in his leg. By day four, we started to see the cast wearing slightly on the front side of his leg, which we suspected would happen, due to Fishan often kicking his toes into the ground and putting most of his weight on that area.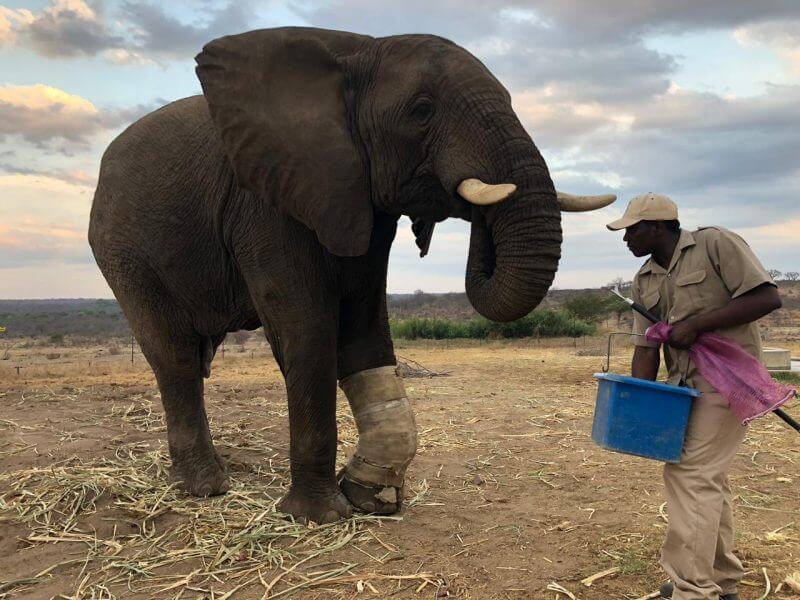 Fishan cast starting to wear.
Fortunately, the cast still continued to support the leg as it was intended to do, and eased the pain for Fishan. We kept a close eye on the rods in in the cast, ensuring that they did not rub against his foot at any stage, and cause aggravation.
During the time that he has had his injury, Fishan has been restricted to the stables area, to control the amount of movement on his legs. We had to increase his food intake, and also keep monitoring his stools very closely. Our incredible elephant carers kept him company, and read to him often, to keep his mind busy, and to hear familiar voices which we hoped would be soothing for him.
We decided to let Fishan join Tokwe, the matriarch, and the younger elephants, in their dedicated stable area during the evenings, as I felt that he enjoyed the extra attention and love that the youngsters would continually give him in the evenings.
The decision was made to redo Fishan's cast on the 30th October, and I requested Brett Mitchell from Grey Solutions to join our veterinary team to get his valuable input too. The more experience we could draw on, the better, as this has never been done before, that has been recorded at least.
Not only did we have to look at several options, as well as back up options, but we also had to ensure we had the various supplies in stock, for each scenario that could possibly take place.
Schalk Human, our safari manager at Jabulani, together with Brett Mitchell, met with Dr Peter Rogers, to discuss the possibility of using clamps and splints in order to straighten the leg.
One of our concerns about the current cast we had set at a bent angle, was that the ligaments and muscles at the back of his leg may shorten as a result.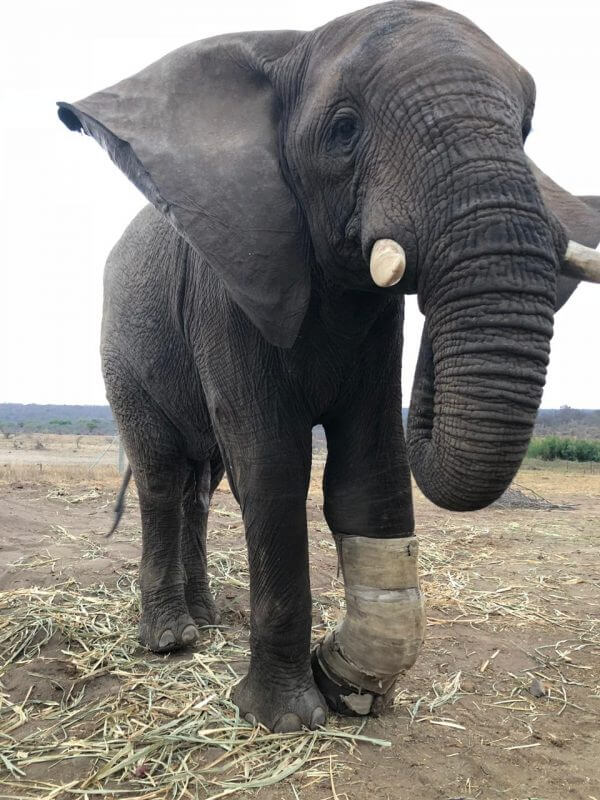 Fishan in his cast, which was slightly curved.
Sourcing the correct materials, both in size and quantities, proved to be a bigger challenge than anticipated, and so we had to postpone the date for his second treatment by a week. We had to ensure that we had the correct amount of supplies for any possible outcome.
Finally, the treatment date was set for the 7th November.
The day prior to that, the 6th November, I spent time with Dr Johan Marais from Saving the Survivors, Brett Mitchell from Grey Solutions, Schalk Human, Tigere Matipeda, and Isaac Mathole, together with Jabulani, to bring all our ideas together to come up with a concrete plan.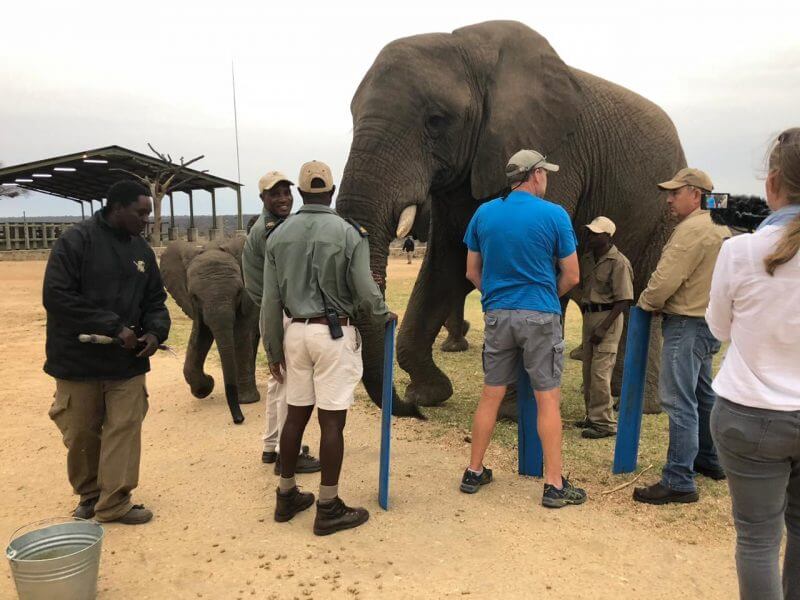 The team with Jabulani.
Jabulani, although seven years younger than Fishan, is of a similar build to Fishan, and with his calm and patient nature, he was such an immense help, enabling us to take some measurements and drawings during our planning stages, based on Jabulani's similar physique to Fishan. He also allowed us to do a test fitting of our device with the clamps, without sedation. All of these processes were carried out to eliminate any possible flaws during the limited time we have during Fishan's sedation.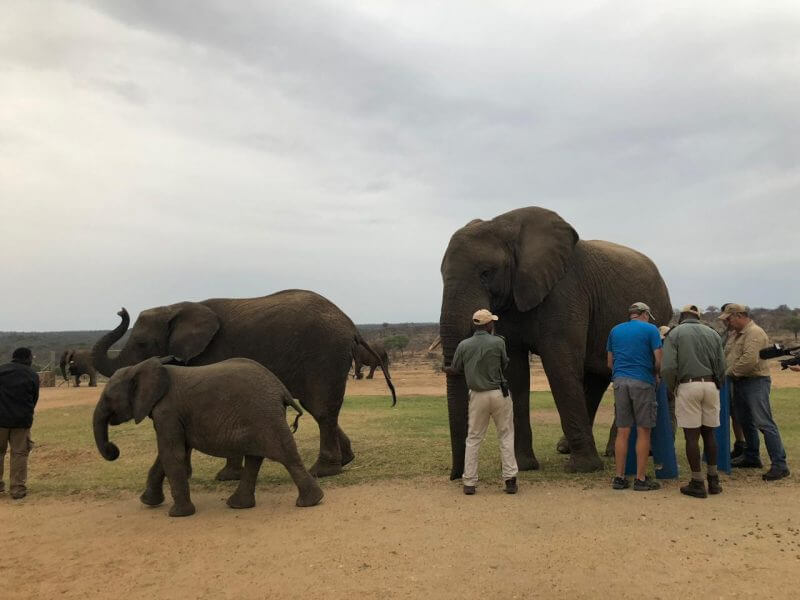 Kumbura and Timisa come to join as Jabulani was getting treat.
During this exercise Dr Marais made some recommendations to alter the splints and clamps, based on the location of the fractured ulna, as well as his years of experience with elephants. With the plan in place, we arranged to meet Dr. Peter Rogers the next morning at 7am for Fishan's treatment.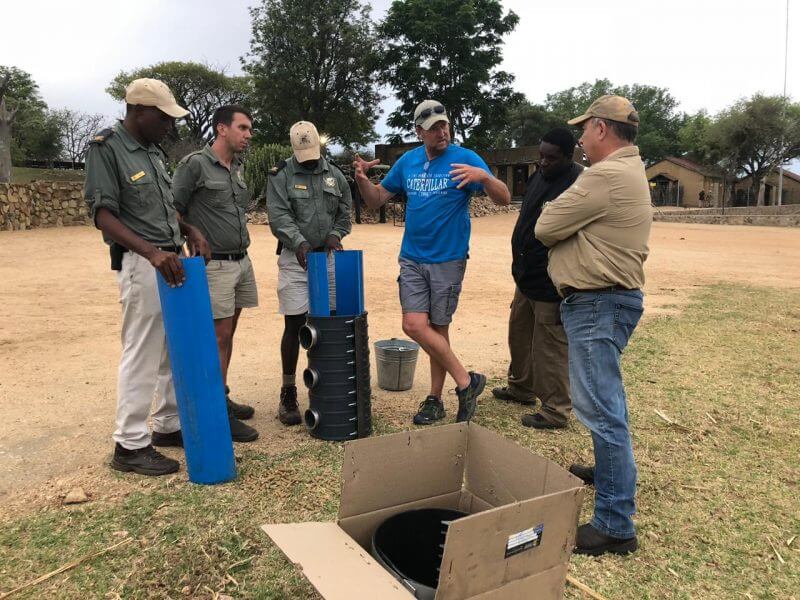 Team planning ahead of the next day
The 7th of November was cold, windy and rainy. Although we are desperate for rain, the timing was not great for Fishan's treatment. Dr Rogers contacted us via Whatsapp to suggest we use some blankets to keep Fishan warm whilst sedated.
During the sedation of Fishan, we faced an expected challenge. As Dr. Rogers darted him, he went down on the wrong side of his body, so he was resting his healthy leg on top his injured leg. We had to somehow roll him on to the other side of his body, with very limited time.
With fast thinking, ropes, a tractor and a Landcruiser, we managed to get Fishan to the correct position, losing an hour of our sedation time. Pressure was now on.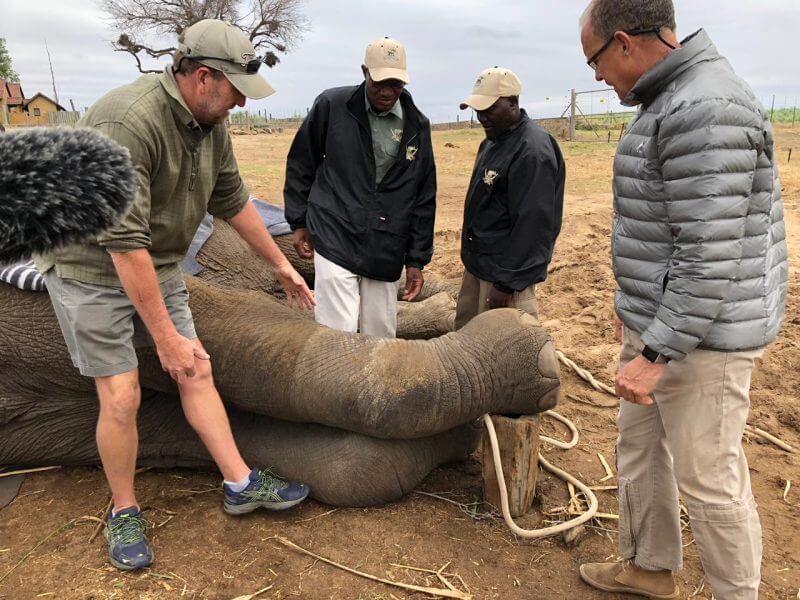 Prepping the leg once in the correct position.
First, we wrapped his leg with the padding, in a similar way that we would do for a cast, whilst Brett and Schalk measured his legs for correct length of the splints. Everything went smoothly and Dr. Rogers kept his eye on Fishans's temperature, his breathing, and sedation.
Schalk and Brett at work
The original clasps we thought would work best, were not big enough, due to the swelling around his leg, so we diverted to our second clamp design.
The two splints we had prepared were a perfect size, which we were applied with some additional padding for his comfort. We manipulated the contraption and clamps until we found we had the best and hopefully the most comfortable fit for Fishan in place.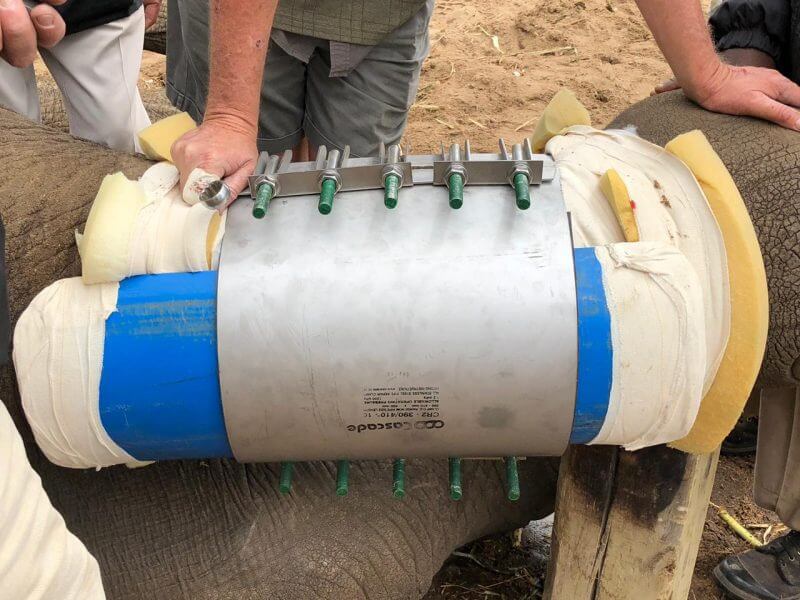 Clamping the device into position
Once the sedation wore off, we were surprised how easily Fishan managed to get up, in comparison to the first treatment. However, it must have been painful, and he had to gather his balance, with his leg in a newly straightened position.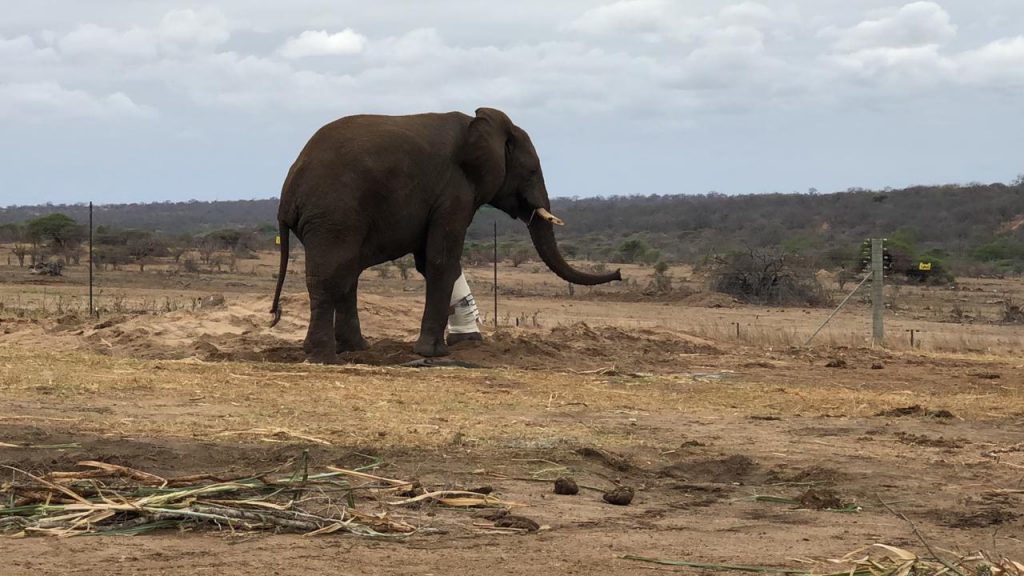 Fishan walking after the second treatment
Fishan has been moving well since the treatment, but we are keeping a close eye on the swelling, which remains a concern. He is on pain killers, and has been eating and drinking well, which we are delighted about.
We will take the next set of X -Rays during the third treatment and sedation, in order to evaluate the process over a six to eight period, after the original X-Rays were taken. We are all extremely anxious to see them, and we hope to see positive progress.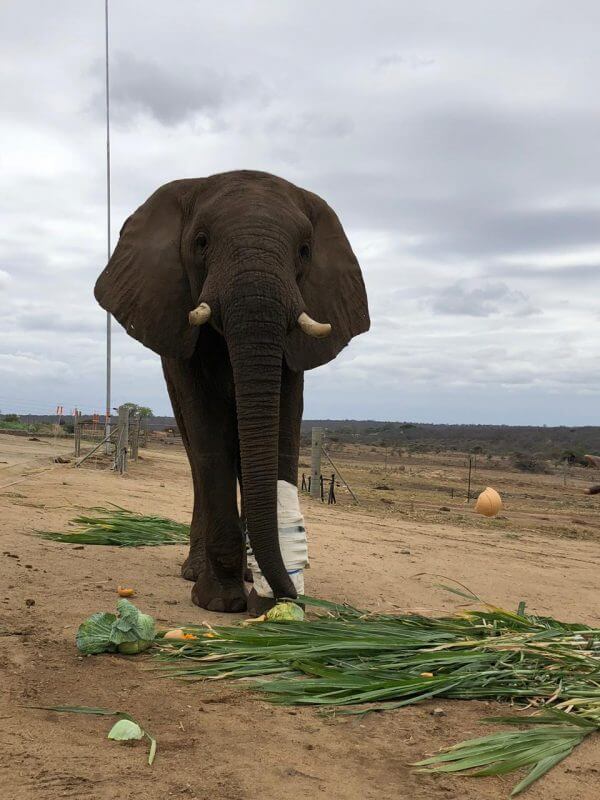 Fishan walking well after the treatment
I am extremely grateful for each and every person on the team, and the vital role they all play in caring for Fishan. From the elephant carers who tend to Fishan every day, feeding him, loving him, as well as reading to him too; to the caring herd that join Fishan at night to keep him company when the carers are off to bed; as well as our elephant managers, Isaac and Tigere, who have supervised the processes and reported to me daily with updates on his condition.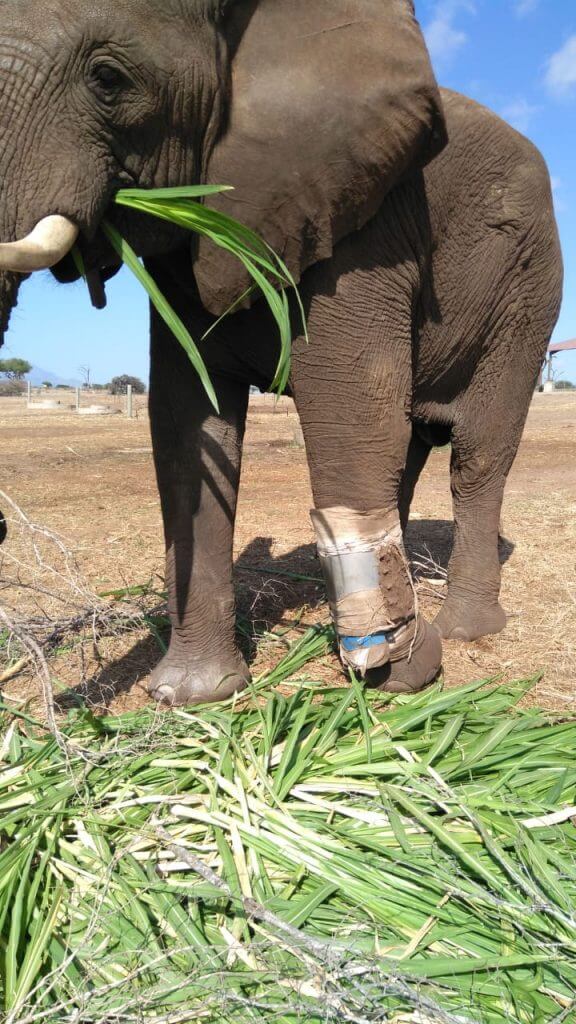 Fishan with his custom designed leg fitting.
My gratitude also goes to Dr. Peter Rogers and Dr. Johan Marais, who are not only always willing to support me, but also care deeply for Fishan and the elephants, which means the world to me.
Schalk Human and Brett Smith have been fantastic, committed to finding solutions, as well as sourcing and preparing the contraptions and materials.
A special thank you to BSN Medical, a supplier that we have never dealt with before, that not only assisted with supplying urgent medical supplies, but offered them at greatly reduced rate too. Thank you to Sue Howells for sourcing these supplies. Finally, a thank you to my Jabulani team, always ready with refreshments, nibbles and smiles, at the end of a tiring and stressful morning.
Holding thumbs we will see some good progress in Fishan's condition by his next treatment.
Adine Roode – Managing Director