Fishan gets a cast placed on his Injured Leg.
by jabulani
Many people wondered why I disappeared on my birthday this year, and asked if I had been avoiding their phone calls. I have been known for avoiding social events, especially when the spotlight is one me, as I have never been one for too much fuss or attention.
However, this was not the case. The 9th October was dedicated to Fishan, the date that many important individuals could come together, to treat a four ton elephant bull patient.
A little while ago, we had shared the news that Fishan, one of the older elephant bulls of the Jabulani herd, who is one of the original herd from Zimbabwe, had suffered a leg injury.  He had stepped into a manmade hole in a river, which caused serious damage to his leg.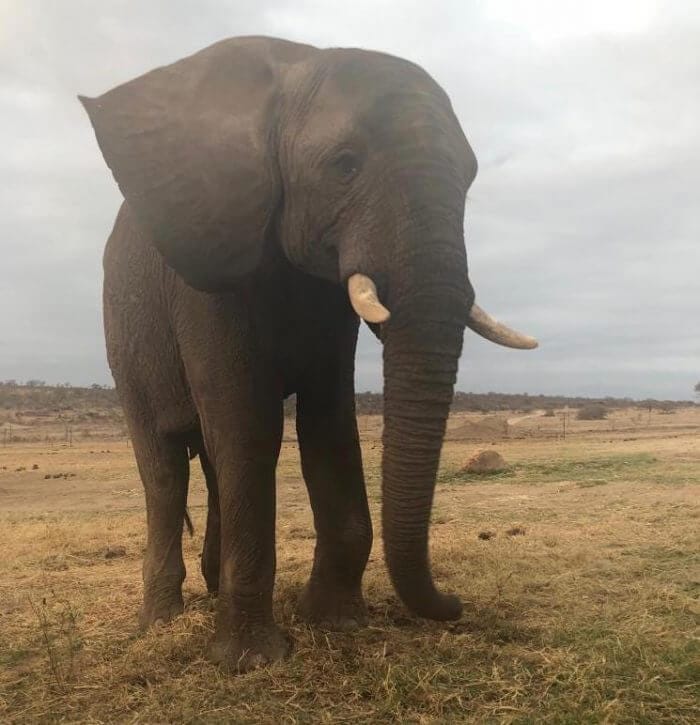 Fishan with an injured leg
Elephant manager, Matipedza Tigere, constantly sent me daily video and photo updates of Fishan, as I am not always on site at the lodge. We monitored his condition closely, giving him anti-inflammatories, resting his leg, as well as cooling his leg with water therapy.
Tigere giving Fishan hydrotherapy
Meanwhile, behind the scenes, our veterinarian team and advisors, were working on ideas for a possible cast or a brace, researching methods that have been used by vets around the world on both Asian and African elephants.
After many Skype sessions and meetings, it was decided that Dr. Johan Marais of Saving the Survivors, would take X-rays in order to evaluate the damage and help ascertain whether we were dealing with a fracture, or damage to the ligaments. This in itself is not an easy task.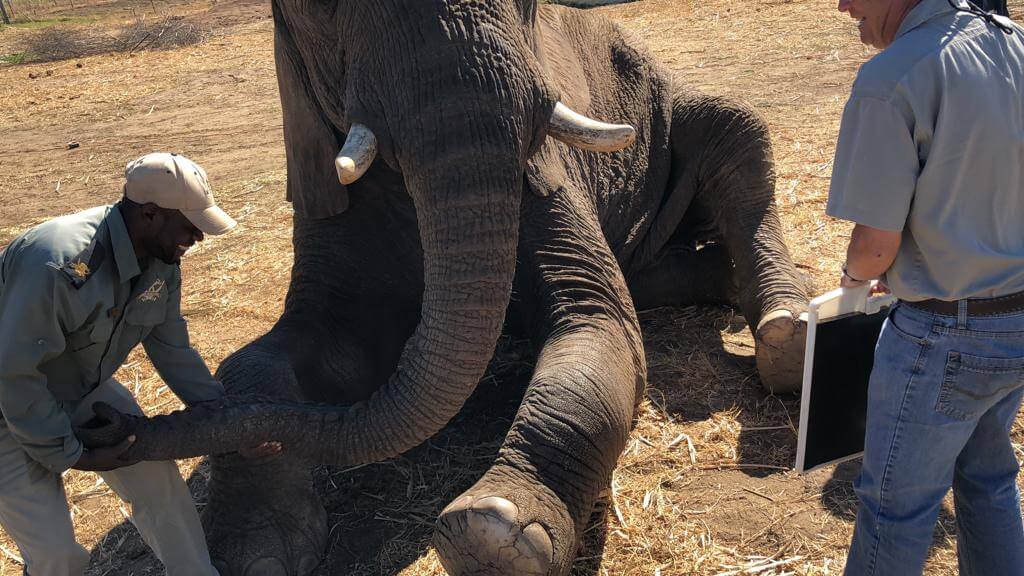 Fishan getting X-Rays Taken
From one of the radiographs, it appeared to Dr. Marais that the swelling was due to the a fracture found at the bottom of his ulna bone.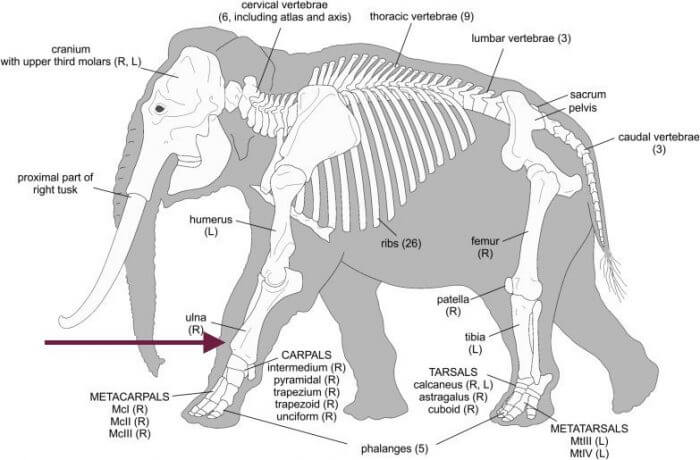 Highlight, lower ulna. Image credit: www.sciencedirect.com
Most elephant limb work done previously, has been with much smaller elephants, and final results are often unknown or vague. There is very little information available about the treatment of fractures of elephant bones, and the applications (or effectiveness) of casts.  There has, however, been certain success seen with prosthetics.
We had found recorded information documenting a 40 year old bull elephant, that had a severely torn shoulder. His shoulder was placed into a sling for a lengthy period of time, however he did not recover. The chances of a cast working on a four ton elephant bull is therefore not known.
Many may ask the question if it is ethical to put an elephant through this process. But after many hours of discussion, we decided to go ahead with this first round, and monitor the process. Our biggest concern is Fishan's mental well-being, as his leg must be extremely painful, and pain can lead to depression.
With the decision made that we would apply a cast, we had to start the planning. Supplies were ordered, and our diaries booked for the 9th October. On the evening of the 8th October, during our final planning meeting, we decided to move forward with a full sedation, rather than a standing sedation. But before we did that we would need a set of x-rays from a healthy leg, to be able to compare to Fishan's x-ray of his injured leg. It was decided to use Jabulani for this, and he did a great job.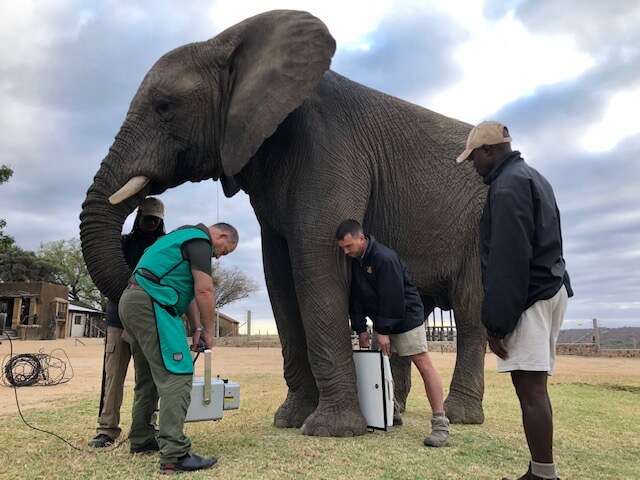 Jabulani standing patiently for X-Rays
The cast would need to be placed from the foot to at least the middle of the carpus and elbow and will incorporate the foot for swelling and support purposes. Work was distributed among all the hands available and each person would play his part in order to work efficiently and effectively in order to avoid unnecessary time wastage.
We sedated Fishan for a period of three hours. X-rays were taken first, before the procedure started. An elephant is an extremely large mammal to work on and the procedure itself took about 2 hours.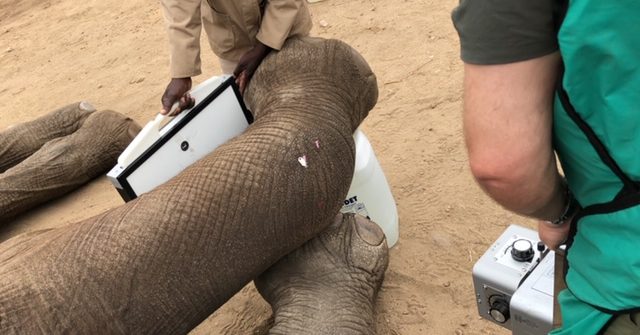 Fishan getting new X-rays before the procedure
We all knew there were tremendous risks involved, however we all agreed that the risks outweighed the opportunity to give him a fair chance to respond to the treatment, and hopefully give him some relief.
The procedure presented a few challenges. What if he were to move? How to keep his leg straight? We could not allow for the casting material to move and bend during the application process, as this could cause pressure sores for Fishan.
As there was a considerable chance that Fishan may break the cast when standing up after the application, we decided to enforce the cast and limb with steel rods, which were contoured into the shape of his leg, keeping in mind we had to allow some room for movement. The entire limb was cast to create one fiberglass cast. The method used to cast the leg is similar to the method used for rhinos and equines, and therefore Dr Johan Marais played a vital role in overseeing our work.
Wildlife vet Dr. Peter Rogers, who took charge of the anesthetic,  took the opportunity whilst Fishan was sedated, to clean a wound that Fishan had in his mouth, from two weeks prior, which happened whilst play fighting with Sebakwe. The wound had been treated by Dr Rogers originally, and our elephant carers had continued to treat it daily, however a section of it did not heal properly, so this gave us an excellent opportunity to take a better look at it, with Fishan being sedated, and treat it. It turns out there were some broken fragments of bone, which Dr Rogers cleared from his mouth.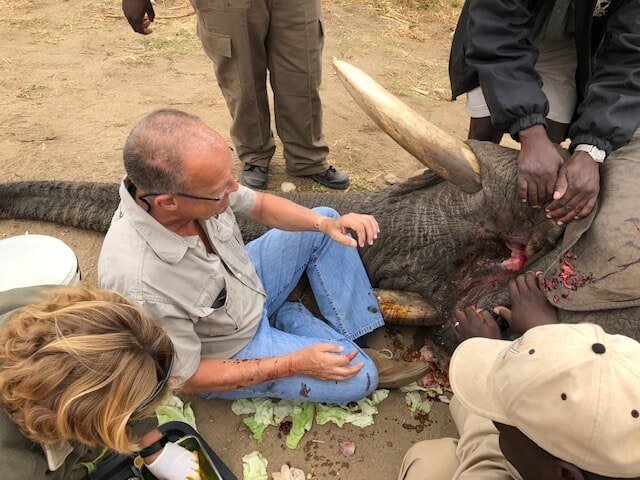 Dr Rogers treating Fishan's mouth during sedation
The cast was soon set, and we were ready to wake Fishan, anxious to see how he would react to the cast. There were so many unanswered questions.  Would he be able to get up easily? And if he did, would he break the cast in the process? Would the cast stay on? How long would it last, and most importantly, would it be successful?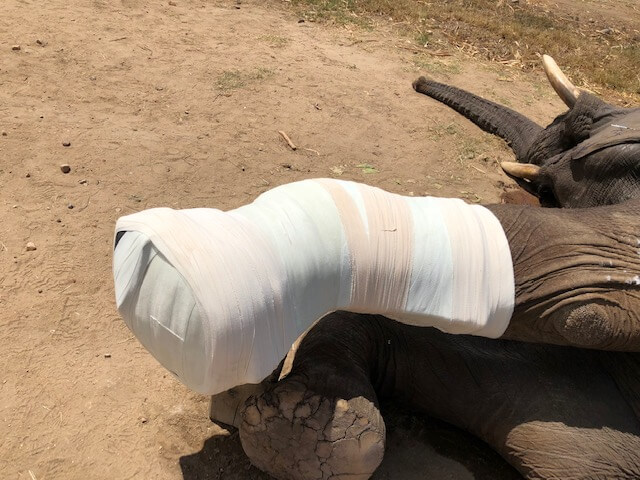 Fishans's cast freshly set
Luckily Fishan managed to wake and stand up, without damaging the cast. He seemed to be walking as comfortable as possible, given the situation. So now we have to be patient, and hope that the cast will be effective, and help Fishan's leg heal quickly.
Fortunately to date, there have not been any signs of depression with Fishan, and the cast is definitely easing the pain from our visual assessments so far.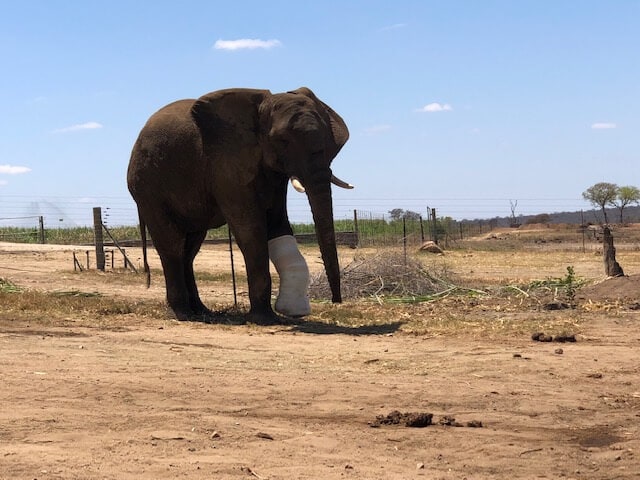 Fishan standing with the new cast on his leg.
The commitment of the entire team has been commendable, in a unique situation that has challenged all of us in different ways.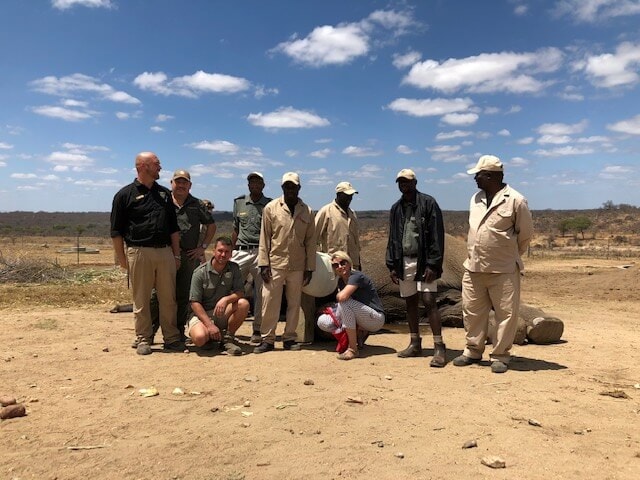 The costs for the treatment of Fishan have been huge so far, from medical supplies, to specialists, vets, extra staff and medication. If anyone would like to donate towards these unexpected costs, we would be extremely grateful, please click HERE for our donation portal.
We will keep you updated with Fishan's progress, though this will now take a lot of patience, and a lot of love for this incredible elephant.
Thank you to everyone that has helped me through this challenging time
Adine Roode