An Unforgettable Experience with Jabulani Safari's Signature Sunsets
by jabulani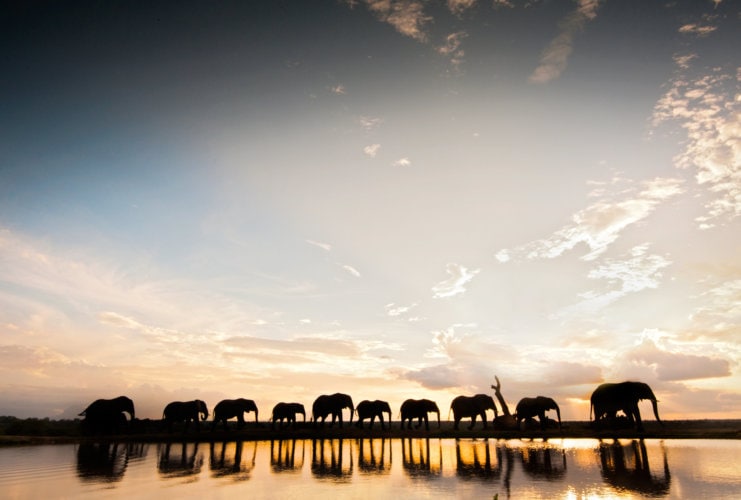 By Megan Whittington
One of the greatest pleasures of visiting the African bush is giving your senses the chance to engage with nature. Jabulani Safari's Signature Sunsets experience offers the perfect opportunity to do just that.
The chance to drink in the bright orange sky, the sounds of birds chirping, and impalas grunting, while enjoying a glass of JabuGin and canapés. To live in the moment while awaiting what makes this experience so unique: the Jabulani herd of elephants. I recently had the enormous pleasure of doing just this.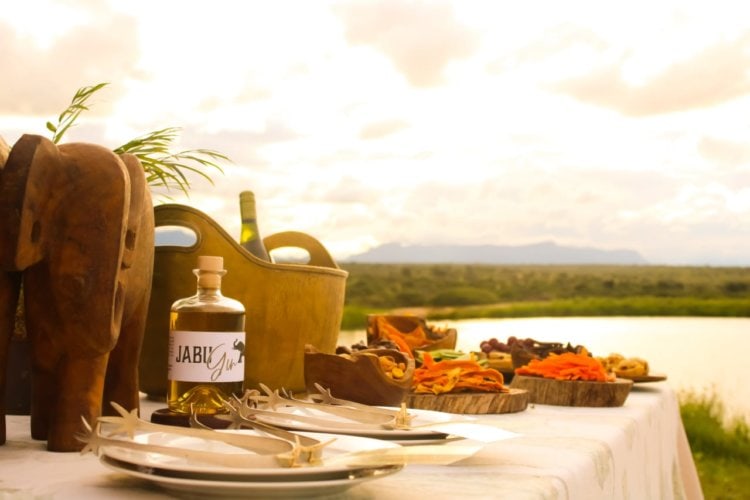 Eagerly awaiting the elephants' arrival
As a lover of wildlife, there was something unbelievably magical about the prospect of watching this very special herd come home, with the sun setting behind them. It was an opportunity that will stay with me for years to come.
After arriving at the Whiskey One spot, I stood at the edge of the dam, searching for a sign of the herd. Anticipation and excitement had seeped into my body, making it difficult for me to fully appreciate the delicious canapés that were trying to call me closer.
"They'll appear from that side," said Ranger Ruan Roos, pointing into the bush as he handed me a drink.
I fixated my eyes on the spot Ruan had pointed to, eagerly waiting for patches of grey movement to appear.
The big arrival
I saw them before I heard them, which surprised me. How did such ginormous animals stay so quiet? They walked, one by one, purposefully forward and along the edge of the dam. Right across from me, with nothing but water to separate us. I couldn't believe it!
With the setting sun behind them, great silhouettes were cast into the water, creating an incredible photographic opportunity. I did my best to identify them, checking for ear perforations, head shapes, and sizes. Watching Jabulani, Bubi, Lundi, Sebakwe, Somopane, Setombe, Tokwe, Fishan, Limpopo, Klaserie, Zindoga, Mambo, Pisa, Kumbura, and Timisa strolling beside the dam, utterly content, fills one's heart in a way that's difficult to describe.
A special pink elephant
"Come, Khanyisa!" called one of the carers. My heart raced as I strained my eyes to spot the little pink dot that so many of us have come to love. There she was, weaving in and out of her family's long legs, ever protected and safe. With a sudden burst of energy, she raced forward to join the elephants that had already come to a stop at the edge of the dam for a drink. She settled next to Timisa, using her newly acquired trunk skills to dip into the water.
I watched as each elephant either stopped for a quick drink of water or passed by, heading in the direction of the stables. And then, with a blink of the eye, they had disappeared from sight. I sat down, catching up on the breaths I'd missed while watching the herd. Now comes a time of reflection. A chance to seep in every sight, smell, taste, and feeling of this moment. I took in all that I'd just seen, creating a deeply embedded memory that daren't be forgotten.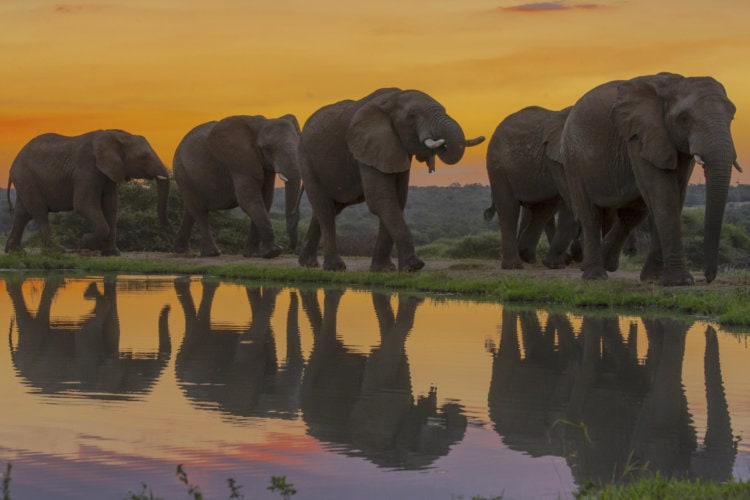 Thankfully, I barely had time to think about feeling sad that the extraordinary moment was over. For our next Jabulani adventure was waiting… and General Manager, Stefan du Toit, was determined to find us a big male lion!
Learn more about Jabulani Safari's Signature Sunsets here.