Fishan the elephant – An Unbelievable Success Story
by jabulani
By Adine Roode
Fishan, our 33-year-old elephant bull, injured his left front leg in September last year, after stepping into a man-made hole in the ground.
His leg was too swollen to allow us to take decent X-rays, but it was clear that he had a fracture on the lower part of the leg, above the ankle joint.
We took X-rays from Jabulani's leg to decipher the problem and tried samples of casting methods and sizes on Jabulani for Fishan. Jabulani was, of course, a very good model – patiently standing for us to try on the various testers. But eventually he would get bored and leave the humans to discuss our methods as he returned to browsing.
"Fishan's leg was eventually placed in a cast – a very difficult procedure when it comes to elephants," says Brett Mitchell,  trusted advisor to Jabulani and Chairman of the Elephant Reintegration Trust.
"He was kept safe and still in a stable paddock during this time to restrict his mobility and allow time for the leg to heal. The cast ultimately cracked and came off, so a decision was made to rather put his leg in a splint, made from pipe connectors. This straightened the leg considerably. But we could only keep it on for a few days due to the swelling of the foot."
After the first casting and then second casting, we didn't know what would happen. I spoke to various people and a good team of experts that explored the different options. We searched for articles on anything we could grasp for assistance.
We continued to give Fishan Dicalcium phosphate (CaHPO₄) and Methylsulfonylmethane (MSM). We ordered bags of 25 kilograms of both at a time in order to give Fishan a cup of each twice daily. As usual, these are not small amounts, but for a four ton elephant, we were also not sure if we needed to give him even more.
MSM is used as a natural healing solution and provides biologically active sulfur. The sulfur compound lowers inflammation and helps to increase bodily tissue. MSM also increases immunity and energy levels and is used as a popular joint health supplement.
The CaHPO₄ provided additional calcium for the huge bone structure.
Pain and anti-inflammatory medication was stopped at the end of last year to minimise the effect on his stomach.
Eventually, Fishan started to walk more and more and began to join the herd once a week, then twice a week, and then every second day. Now he only stays behind in the stables twice a week.
During the first days that he re-joined the herd, he moved slowly and tried to keep up – in his own slow way. The next day, he would be exhausted and lie flat down to sleep most of the day. The more time he spent out in the reserve, the less he needed to nap as he built up his strength and muscles. At one stage, he looked very skinny. Even though he was getting plenty of extra food, he lost muscle tone and needed time to build it back.
When it was hot in the stables – with the summer season's high temperatures – we would cool him off by spraying him with cool water. On his outings into the reserve, he initially stayed away from the waterholes, but slowly he started to get his feet wet – although not quite wallowing as he used to. I guess that, like humans, he needed time to trust himself again, to be sure that he wouldn't trip and fall and hurt himself again.
Veterinary surgeon, Dr Johan Marais has sent me regular updates on Fishan and recently shared that he is truly amazed by the incredible improvement. He also mentioned that Fishan might experience some discomfort during the upcoming winter, however, by the time we head into summer again, it will go much better.
Elephant Care Managers, Isaac Mathole and Tigere Matipedza have also been sending daily updates and we were so thrilled to have Tigere tell us recently that Mr Fishan has started going into the dam and swimming, even lying on his side, with only a glimpse of his tummy sticking out and his trunk from time to time to take a fresh breath of air. He is apparently starting to be as excited as a kid in the water again – with his goggles and snorkel!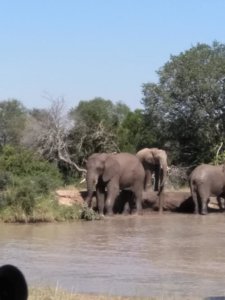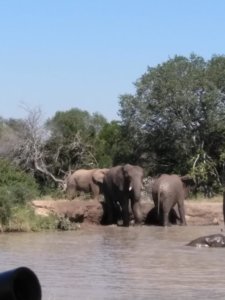 This is why we do what we do. It is these small, insignificant moments like an elephant swimming again, enjoying life again, knowing the long and arduous road we had to walk together to get there. That's what makes it all worthwhile. And we would do it all again, even if the outcome was unknown.
"The care that Jabulani and Adine provided for Fishan was phenomenal," says Brett. "They have done whatever has been required in order to help Fishan, regardless of the expenses. They have given Fishan a second chance. As in many of these situations, euthanasia would have been a simpler option."
Thank you to everyone who played a role!
Thank you to our elephant carers who stayed with Fishan day in and day out and read to him (after I insisted and insisted) to make sure that he didn't feel lonely and deserted. These guys might have had a sense of humour failure with me at times, but they persevered.
Thank you to the advisory team who also had to humour all my phone calls when I wanted to bounce back ideas or theories, a team who are now so shocked that we managed to actually save the life of a 33-year-old elephant bull! An elephant most others would have ditched and labelled as a problem elephant.
Thank you also to the people behind the scenes in the offices, who had to collect boxes of casting material, had to call suppliers to get better rates, had to help us do whatever it took to save Fishan.
You all stood by us every step of the way. You are the best team I could ask for!
Yours in Conservation
Adine Roode