…an Amarula Panna Cotta with Honeycomb and Banana Ice Cream!
by jabulani
We always love treating our guests to something sweet, especially with local flavours and ingredients included. So that you can try a little South African sweetness of your own back home, we will be sharing a few Amarula-inspired recipes with you over the next few months.
Our first recipe for your delight is…
…an Amarula Panna Cotta with Honeycomb and Banana Ice Cream!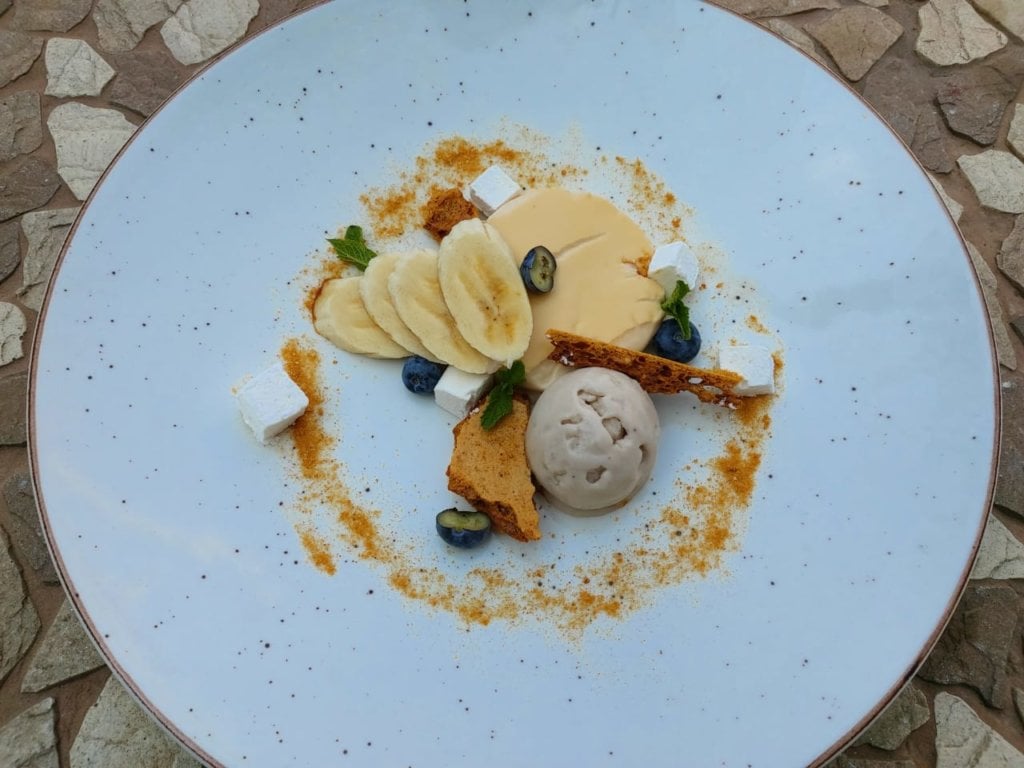 Amarula-inspired Recipe by Chef Nerissa from the Jabulani Kitchen.
Amarula Panna Cotta
1.5l  cream
500ml Amarula
12 leaves gelatine
2 vanilla bean pods
50g castor sugar
Method:
Method:
Heat cream and Amarula to a boiling point, add vanilla and castor sugar. Melt the gelatine leaves and add while the mixture is still above 40°C. Set in desired moulds or ramekins and chill in fridge till set.
Honeycomb
400 g castor sugar
100 ml honey
2 tbsp liquid glucose
1,5 tsp bicarbonate of soda
Method:
Boil sugar and honey with 100 ml water and take to 160°C, add the bicarb and whisk quickly. Immediately pour into a greaseproof tray and allow to set. Break into crumbles.
Banana Ice Cream
200 g egg yolks (approximately 10 egg yolks)
1 l cream
800 g banana
250 g treacle sugar
Method:
Cream yolks till pale.  In a double boiler, bring the cream to the boil. Remove from heat and temper with the yolks.  Roast the bananas, sprinkled with treacle sugar in the oven at 180°C till caramelised. Blend, pass through a sieve and cool. Add to the cream egg mix and churn. Freeze until required.
Vanilla Marshmallow
250 g Sugar
125 ml Water
1 Vanilla Pod
8 Gelatine sheets
Method:
Soak gelatine leaves in cold water. Combine sugar, water and vanilla in a medium-sized pot and heat un until all the sugar is dissolved and the mixture starts to boil and remove from the heat. Put you sugar mixture in a mixing bowl and whisk at medium speed for 5 min, then add you soaked gelatine to the mixture and whisk at a high speed until it had tripled in size. At this point, the mixture should look like a Meringue. Then spray a container with non-stick spray and put the mixture in the container. Put in the fridge for 4-5 hours.